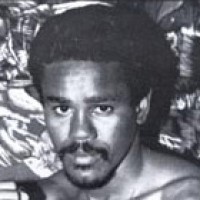 By Donald "Braveheart" Stewart
He is a former world champion at bantamweight from the backwaters of Puerto Rico who retains his popularity there through the generosity of his spirt, but this former WBA champion had a tough pathway outside the ring, and a not so easy ride in it.
Julian Solis, 41-13-1, 22 KO's, was one of three brothers who boxed out of San Juan in Rio Piedras. He was the only one who won a world title, but not the only one who fought for one – they all did. They all came up against legends as brother Enrique was beaten by none other than Eusebio Pedroza in 1978, whilst Rafael got knocked out by Hector "Macho" Camacho in 1983.
Solis made his debut on the professional scene in 1975 when he met fellow debutant, Ray Negron at home in San Juan. A win to begin, his first belt came when he took the WBC FECARBOX bantamweight title in late August of 1978 when he knocked Jaime Ricardo out in the 8th round.
He defended the title in October by outpointing Julio Soto Solano over 12 rounds before 1979 arrived. In that year he entered the ring four times and left it victorious four times; it was surely only a matter of time before he made a world title fight his.
1980 was the year.
In his second defense of his FECARBOX title he stopped Edgar Roman in the 12th in Caracas. In May, in South Africa, he got a split decision 10 round win against Welile Nkosinkulu which must have been quite a risk.
On the 29th of August 1980, in Miami against the WBA bantamweight champion, Jorge Lujan, he triumphed on points; still nobody had beaten him, though things had been close, and his world title win was a split decision.
That was to change in his very first defense. Jeff Chandler relieved him of his belt and undefeated status on the 14th November by knocking Solis out in the 14th round. Solis struggled from the opening bell and once again, on a bigger platform, he fell short. Solis came away with an excuse about his teeth, but the fact is that he was struggling at the top level.
The rematch in July, at Atlantic City the following year proved that and saw Chandler triumph once more but take less time – he knocked Solis out in the 7th! It was to be repeated in his next fight and the records show that in three world level contests he had been beaten twice.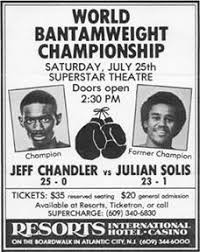 He was never to fight for a world title again, but his boxing career was not without note or interest. He was a very popular Puerto Rican fighter and fought close to his people. They loved him for that, and his fights were hugely popular.
It was not the last belt he entered a ring to try and win. In 1983 he was in against the number 1, at the time, ranked super bantamweight, Bernardo Checa in Panama City for the WBA FEDELATIN title which ended in a draw. Fighting around Latin America he became quite a name and a draw and the draw with Checa would have gotten him noticed. He also beat future world champion Kenny Mitchell before slowing down in 1985 which may have hurt his prospects.
He then was robbed, according to his handlers, in his 1986 fight in San Antonio against Mike Ayala, that led to an unsuccessful appeal to the Texas State Commission and things appeared more desperate than planned. His final title fight was for the NABF belt on the 14th October 1988 in Caesar's Palace against Jesus Poll where he lost on points.
His last few years in the ring were less successful as he travelled the globe taking on notable opponents but ultimately ending with 6 wins in his last fifteen fights – a sliding return and not in a positive sense. He retired in his final fight in 1992 against Stephane Haccoun before retiring himself thereafter from a career with plenty to commend it.
His days of fighting were, however, far from over. In 2010 he found himself in a fight of a very different type when he was shot and wounded by several bullets fired by unidentified individuals after an argument. In the same fight, the son of former boxer, Malvin Solis Garcia, 32 years, died. That young man was also the nephew of Jesus Santos Solis, himself a former boxer, who had been killed at age 53 in San Juan 3 years previously; a violent place and a violent end, but not for Solis.
He is rumored to still be active in the Puerto Rican community and a very popular figure there. When you look back over what he achieved, it is clear to see why.
Contact the Feature Writers