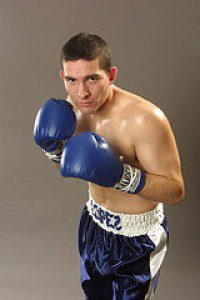 By Marc "Kid Huevos" Livitz
Without question and certainly without historical precedent, the Coronavirus pandemic has disrupted our daily lives as well as uprooted many parts of societies around the world. For those of us who are fortunate enough to have avoided contracted the virus in addition to the safety of our loved ones, a return to even a hint of normalcy would likely arrive with an immeasurable sense of gratitude. In regards to the sports world, we have to be getting tired of seeing reruns of old games, fights and the like.
Furthermore, in what universe do pale imitations of athletes dunking on an 8' goal across various social media platforms qualify as entertainment? Regardless, everyone has a place in the grand scheme and professional boxers undoubtedly fall into the same category as most of us. We have to work to live and some of us may be lucky enough to actually live to work, which is often the difference between a job and a career.
With that in mind, I'll be catching up with fighters I've interviewed over the years in an effort to see just how they've been coping with the abrupt change in life as well as within the boxing game. I humbly give you "The Quarantine Chronicles".
Native Texan Alfonso "El Tigre" Lopez made his first foray into the glaring spotlight of a pay TV undercard nearly nine years ago this week. He faced former middleweight world champion Kelly Pavlik as part of the buildup towards another showcasing of the then meteoric rise of Manny Pacquiao, who coasted past Shane Mosley later that evening. Lopez fought hard but was bested by Pavlik, yet this in no way deterred the resident of Huntsville, TX., which is about ninety minutes north of Houston.
Over the years, I've had the privilege of speaking with the amiable Alfonso, whom in recent years has added the title of promoter (El Tigre Promotions) to his professional fighting resume as a light heavyweight. Lopez, 32-3, 25 KO's took nearly four years in total off from boxing after suffering various injuries, including bone chips in each elbow in 2012 and a completely torn rotator cuff in 2015. The combination of setbacks forced "El Tigre" from the ring, however he's not lost a professional bout since 2012.
We spoke a few days ago and discussed what life has been like during this difficult period.
ML: First off, thanks so much for taking some time to chat with me again. What type of curveball has this pandemic thrown your way?
I've just been hoping for some phone calls and trying to stay positive. It's not the easiest thing to do. A fighter without structure and one who is off schedule is a bad one. No one could leave their house and lots of people are still really worried.
ML: What were you doing around the time you found out that everything basically had to stop?
It was really odd. I was training in England in late February and when it really started to get bad, then both my trainer Felix Ramirez and I thought it wouldn't all go as planned. Camp ended and we got home on March 1st. El Tigre had a card coming up in Channelview (east of Houston) and I heard things would be getting canceled. I was the weigh-in and we got the phone call that there'd be no events because of the shutdown.
ML: You teach boxing classes and have several clients as well as being a professional boxer. I think it's safe to say lots of people in your circle of sorts have been greatly affected.
Oh, yes. I teach and train at a place called HCP Barbell. We can't conduct classes, but this week we're finally able to do some one on one sessions. As far as my inner circle, we've been heading to Felix's place, which is on about 500 acres out in the country. A few of us would go out there. I was also running a gym in the Woodlands (north Houston) and we were rolling with private classes. It kept me in the gym and kept me working. I wondered how long this would last and we're hoping to pick it back up this week.
ML: What about the other fighters you use in sparring and regular everyday training? Did you miss a beat or two with the time off and did they in any way?
I've seen a lot of guys pushing themselves hard by working out at home. As for me, I skipped a few runs, I slept in some and before I knew it, I was 200 pounds. I was eating like I was training, but I'd stay up late and my rhythm was off. We kept hearing June or July and we canceled shows we had scheduled.
My friends from the gym and I stayed in contact in a big group and we challenged each other. It turned into a good time. It was fun and we were all getting bigger from lifting lots of weights. I didn't think much of it until I started punching the bag again and my arms and shoulders were so tight.
ML: Thanks again for talking with me, Alfonso. What would you say you miss more than anything and have you been able to take some positives away from this experience?
I know that I miss the community feel of it. I miss the bond I had with the people in the area. You start to miss the drives to and from the gym. You miss the camaraderie of being with all the people and how you're pushed from being with others. You miss that.
I'd go out to the park with my kids and now I can't do that, either. No batting cages or anything like that. We're figuring out just how to play in the backyard with balls that won't break windows. I found the positives in it, which was being able to spend so much time with my kids.
Contact the Feature Writers