[AdSense-A]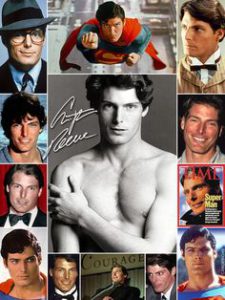 By Geoffrey Huchel
Christopher Reeve was Superman on-screen and off. He was the embodiment of what Superman stood for: strength, goodness and hope. On-screen, as the "Man of Steel" he was a hero to Lois Lane and the people of Metropolis. Off-screen, he was a hero to the many people who needed a voice and a chance to have a better quality of life. Reeve once said: "I think a hero is an ordinary individual who finds strength to persevere and endure in spite of overwhelming circumstances." Reeve was certainly that kind of hero.
Christopher D'Olier Reeve was born on September 25, 1952 in New York City. He was educated at the Princeton Day School where he excelled academically, athletically and onstage. Reeve found his passion for acting when at age nine he was cast in the operetta The Yeoman of the Guard, his first of many student plays.
At age fifteen he was accepted as an apprentice at the Williamstown Theatre Festival in Williamstown, Massachusetts. During the workshop he performed a scene from A View from the Bridge. The following summer he was hired at the Harvard Summer Repertory Theater Company in Cambridge, Massachusetts. He performed in the productions The Hostage and A Month in the Country. At the advice of his mother Reeve applied for college. He was accepted into Princeton University, Columbia University, Brown University, Cornell University and Northwestern University, ultimately choosing to attend Cornell. He joined Cornell's theatre department, appearing in the productions Waiting for Godot, Rosencrantz and Guildenstern Are Dead and The Winter's Tale. Reeve transferred to the Juilliard School as a theater major. While attending Julliard, he met Robin Williams. They had several classes together and developed a close friendship.
Reeve began his career in the mid-1970s, appearing on the television series THE WIDE WORLD OF MYSTERY (1973) and 3 episodes of LOVE OF LIFE (1951). He began his film career when he was cast in his first role in a small part as a junior submarine officer in the naval disaster movie GRAY LADY DOWN (1978). The same year, he starred opposite Gene Hackman in SUPERMAN (1978), with Margot Kidder, Jackie Cooper, Ned Beatty, Valerie Perrine and Marlon Brando. Reeve's portrayal of Superman made him a household name early in his career, which for most actors, takes time to earn that status. Reeve returned to play Superman in the sequel, SUPERMAN II (1980), reuniting with Hackman, Kidder, Beatty, Cooper and Perrine. His next film was the drama SOMEWHERE IN TIME (1980), starring opposite Jane Seymour and Christopher Plummer, followed by the comedy mystery DEATHTRAP (1982), with Michael Caine and Dyan Cannon. Reeve returned to play Superman for a third time in SUPERMAN III (1983), also starring Richard Pryor, with Kidder and Cooper returning. Reeve returned for a fourth and final time to play Superman in SUPERMAN IV: THE QUEST FOR PEACE (1987), with Hackman, Kidder, Cooper, Jon Cryer and Mariel Hemingway.
The 1990s were pivotal in his life. He worked steadily in film and television, including BUMP IN THE NIGHT (1991), the TV series TALES FROM THE CRYPT (1989), NOISES OFF (1992), with Michael Caine and Carol Burnett, NIGHTMARE IN THE DAYLIGHT (1992), MORTAL SINS (1992), AVONLEA (1990), THE SEA WOLF (1993), THE REMAINS OF THE DAY (1993), with Anthony Hopkins and Emma Thompson, MORNING GLORY (1993), FRASIER (1993), SPEECHLESS (1994), with Michael Keaton and Geena Davis, VILLAGE OF THE DAMNED (1995), with Kirstie Alley, Meredith Salenger and Mark Hamill. The three-part TV movie series BLACK FOX (1995), BLACK FOX: THE PRICE OF PEACE (1995), BLACK FOX: GOOD MEN AND BAD (1995), and ABOVE SUSPICION (1996).
On May 27, 1995, Reeve was left quadriplegic after being thrown from a horse during an equestrian competition in Culpeper, Virginia. Following the accident Reeve went through several procedures, treatments and therapies which were part of the long recovery he had ahead of him. He used a wheelchair and a portable ventilator to breathe for the rest of his life. Oftentimes he felt inner anguish and hopelessness, but the love and support from his wife, Dana, helped him through it. At a bleak moment, the door flew open and Robin Williams came in. As an attempt to cheer up his friend, Williams arrived in character as the Russian doctor he played in the comedy NINE MONTHS (1995). Reeve said he laughed for the first time since the accident.
Feeling strong enough, Reeve returned to acting in 1996 when he appeared in A STEP TOWARD TOMORROW (1996), with Judith Light. His final appearances on screen were in the TV movie remake REAR WINDOW (1998), the TV series THE PRACTICE (1997) and SMALLVILLE (2001), guest starring in two episodes. In addition to acting Reeve has 3 directing credits: the TV movies IN THE GLOAMING (1997), with Glenn Close and Bridget Fonda, THE BROOKE ELLISON STORY (2004), starring Lacey Chabert, and based on the true story about the first quadriplegic to graduate from Harvard, and EVERYBODY'S HERO (2006), which he was working on at the time of his death.
Christopher Reeve died on October 10, 2004, in Mount Kisco, New York, after suffering cardiac arrest and falling into a coma. He was 52 years old.
Reeve used his celebrity status for several philanthropic causes. He lobbied on behalf of people with spinal cord injuries and for the human embryonic stem cell research, founding the Christopher Reeve Foundation and co-founding the Reeve-Irvine Research Center. Through Make A Wish Foundation he visited terminally ill children, and he joined the Board of Directors for the worldwide charity Save The Children.
Essential Reeve:
SUPERMAN (1978)
SOMEWHERE IN TIME (1980)
SUPERMAN II (1980)
DEATHTRAP (1982)
REMAINS OF THE DAY (1993)
IN THE GLOAMING (1997)
REAR WINDOW (1998)
Contact the Feature Writers