[AdSense-A]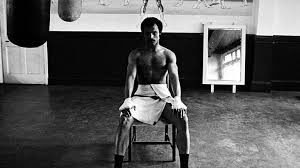 By Donald "Braveheart" Stewart
1972 was a dark year for sport. It was the year that the Olympics became less about just taking part and more about surviving the worst terrorist massacre in living memory. For those of us too young to know what it was all about we just saw on our screens the pictures. They made little sense but in the decade that was the seventies, there was a sense that the heyday of love, peace and the 1960's were gone. Innocence may not have been dying but you got the sense that it had called in a priest in order to get ready for last rites.
Nowadays in British boxing, the Olympics are the breeding ground for new professional boxers. Names that have come to prominence include Joshua, Harrison, DeGale, Saunders, Gavin, Khan and Price. Some have managed to hit the heights of the professional game whilst others have fallen short. In the 1972 Olympics we had a tremendous group of boxers that included future world champion Alan Minter and super flyweight Welshman Ralph Evans and one more.
Both Evans and Minter came away from those Olympics with a Bronze Medal. Minter got all the headlines due to his future glory whilst Evans who retired from boxing as an amateur at the age of 19, got lost in the headlights of others.
The one in the middle, who also got a Bronze Medal, was George Turpin, 11-3-2, 5 KO's.
Hailing from the fighting city of Liverpool this proud Scouser, fought at bantamweight at the Olympics. The 1972 Olympics were the year that boxing aficionados became aware of a country that up until that time was known usually by reference to the Bay of Pigs. Nuclear stand offs were more likely to be referenced with regards to Cuba than any sport, but after 1972, their legacy was to be commenced through their pugilistic dance moves in the ring; especially in the amateur code.
Turpin got to the Olympics undefeated as an amateur against British opposition. It was easy to see why he was one of the ones being touted as a dead cert medal winner. In 1971 and 1972 he had won the ABA finals, showing that he reigned supreme as a boxer domestically at his weight.
The expectation of British fans was heightened by the fact that you had to go back 12 years to when the British Olympic boxing team had won any sort of medal – and then it had been two Bronzes. Our attendance at 1964 and 1968 had been paltry with no boxers in 1964 and only one in 1968.
The time was ripe.
In the bantamweight division, after a first round bye, he sailed through the next three fights, earning himself a 5-0, 5-0, 4-1 record. He was then faced by Cuba's Orlando Martinez. Turpin fought bravely and for many, won that fight. The judges thought otherwise and awarded it 3-2 on a split decision to the Cuban who went on to win Gold.
Turpin's days as an amateur were far from over, however as he went on to fight for England against the USA early in 1973, winning in Santa Fe for his country.
He then turned pro in May of 1973 winning his first professional bout by knockout in the 1st round of a scheduled 6 against John Mitchell in the Hilton Hotel, Mayfair, London.
It began a career that saw him win his first ten fights. In amongst those 10 wins, he beat Frank Taberner twice, once to win the Central Area bantamweight belt and then to retain it. Both fights, though, in 1974 were to represent the only professional belt he was to win.
He came north to Scotland to take on Alan Buchanan in the St Andrews Sporting Club in October of that year, winning by knockout in the 4th round.
One year later he was to face Buchanan again, in October of 1975 and it is possibly now that his ability was being overtaken by his lack of dedication as he failed to make weight for a British title featherweight eliminator. He won the fight, but a 12 round fight reduced to 10 does not a successful career pathway always make.
His first professional loss was to come in 1976 at the Royal Albert Hall against Scottish legend, Jim Watt. Watt was coming off two losses and his glory days were well ahead of him, but here he was in his 30th professional fight, taking on an Olympic legend and knocking him out in the 4th.
That precious loss was followed by indifferent form that saw five more fights in little over a year. Within them there was only one win, with two losses and two draws. He did get to fight in Scandinavia twice, against Svein Erik Paulsen in Oslo in 1976 and then, against Hans-Henrik Palm in Copenhagen in 1977. His final professional fight in 1977 was against Barry Price at Heathrow where he drew on points and then called the whole thing off.
Turpin's tale is one of two codes – one that he could master and one that he didn't quite mange to do. There is no shame in his results and there is little doubt that he was, as he was called thereafter, one of the best boxers that Liverpool ever produced.
Overshadowed by Minter and also the events of Munich, he is simply yet another fighter we do well to keep in our memory banks, for his tale is one worth telling to any who come home with a medal from any Olympics…
Contact the Feature Writers