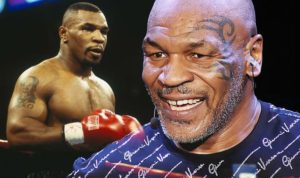 By David "The Journeyman" Vaught
With everything on hold in the boxing world due to Covid-19, "Iron" Mike Tyson, at 53 years of age, is getting loads of publicity. There's been talk of an exhibition bout with his old rival Evander "The Real Deal" Holyfield, who is 57 years old. Both Tyson and Holyfield have posted training videos and they appear to be in great shape. The exhibition match is being planned to raise money for underprivileged youth through Holyfield's charity, Unite 4 Our Fight. This is a win for boxing and a win for children in need. In his latest video, Mike Tyson teases that he's "back" and has vaguely hinted at a return to professional boxing.
I believe this is to drum up more enthusiasm for the charity event, however some of Tyson's fans believe that he is coming back to prize fighting and intends to regain the Heavyweight Crown. Everyone loves a great comeback story and we love it when the underdog pulls off a great victory, but Tyson and Holyfield have had their glory days in the ring. Anything more than a charity exhibition bout would be too much for either man. I've heard people comparing Mike Tyson to "Big" George Foreman and how Foreman had done the impossible.
After all, George claimed to have not even made a fist for ten years before he returned to prize fighting. George was 45 years old when he regained the heavyweight title, so Mike Tyson is just a few years older, right? Well, there's more to it than that. Foreman was 45 when he won the title, but he had started his comeback when he was 37, not what comes to mind when you think about a fighter just starting out, but still much younger than Tyson at 53.
George had relied on his power during his first foray in professional boxing and that power had not abandoned him when he returned to the ring. With some defensive adjustments, Foreman was back in the mix. Mike Tyson relied on fast hands, fast feet, and incredible head movement.
I'm sure he still carries power in his uppercuts and signature double hooks, but he will only be able to show that greatness in spurts over four round exhibitions. Pressed in a tough fight, Tyson would run out of gas. You can't blame fans for wanting to see their old heroes come back and achieve glory one more time. Many of us felt the same way when Muhammad Ali made his final comeback and suffered the brutal loss to Larry Holmes, a fight that should have never been sanctioned. So, we should all hope that Evander Holyfield and Mike Tyson have a lot of fun, raise a ton of money for charity, and leave prize fighting to the younger generation.
Contact the Feature Writers