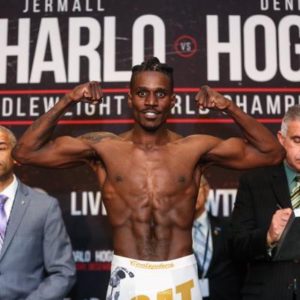 By Marc "Kid Huevos" Livitz
Welcome back once again, dear reader to another installment of an in-depth glimpse into the lives of professional fighters and how the Coronavirus pandemic has affected their lives, both in as well as out of the ring. Hopefully, this third piece of the introspective series finds you and yours in good health and spirits. Ronald Ellis made his professional debut in early 2011 and for the majority of his time within the pugilistic ranks, I've been fortunate enough to call him a friend and colleague. When we first spoke some time ago, the Lynn, Massachusetts native was in the process of finding his footing within the prize fighting ranks and since then, he's been able to carve out an impressive resume as the possibility of a chance at world title remains ever closer on the horizon.
These days, Ellis, 17-1-2, 11 KO's, calls the sunny confines of Southern California home, although the mandatory shutdown of the majority of public places has trimmed down available training options and locales to all but a few. Ronald and I spoke on Wednesday and the range of topics under discussion ran from east to west and all sides in between. From filling in as a last minute replacement to dealing with a frigid hotel room and even pondering as to whether or not a certain premium cable network carries with it an unfortunate hex for the Bostonian middleweight.
ML: Hey, Ron, great talking with you once again. In this series of articles, I've been catching up with fighters to see how the shutdown has affected them and how they've been dealing with it. So, what were you up to when you heard that everything had to stop?
I was in San Diego at the Canelo camp. After I'd done some sparring, my manager called me and said that it was mandatory for everything to shut down and all fights would be canceled. Canelo was busy training for his upcoming fight on May 2.
ML: Were you looking to be part of the undercard that night?
Oh yeah, I was trying to squeeze in somewhere.
ML: When it finally hit home that you couldn't prepare or train, what did you do and what went through your mind?
I couldn't even think. I mean, I just went blank. I thought, "this is real". The stores were sold out of water, toilet paper and all that. Career wise, I was hoping it would be over soon but they locked down the whole state. I just had to continue working out to stay sane.
ML: So, what have you been able to do in the meantime?
Usually, my coach and go to the park and we work pads and train some outside. Luckily, my manager (Ken Sheer) owns the gym I belong to. I've been doing everything but sparring
ML: Did any of the little demons get you? In other words, did you ease off a bit?
Yeah, I have to admit. I was eating a lot and playing video games until late at night. I knew that I had to stop all of that and start working out again. I knew that I couldn't just play video games and sleep. Soon, my ankles got swollen.
As far as sleep goes, I normally can get four hours and I'm fine. I'm sluggish if I go over. Sometimes, I take a nap during the day if I need to.
ML: Last year, you experienced your first loss as a professional. You ended up as a fill-in on a Showtime card in Rochester, New York and had to fly across the country.
That fight (vs DeAndre Ware at super middleweight) was a learning experience. It is what it is and hey, we all come to fight. I should have backed out with the injuries I had, including my right hand that I first broke in 2015, but I couldn't do it. From the flight out to the weigh in, everything was terrible. I had to lose weight about 5 times after I flew in on the morning of the weigh-in.
I flew from L.A. then I had to catch a connecting flight in Minnesota. That flight was delayed and it was -20 degrees there. The gym at the hotel was flooded out. It was a horrible time. My hand was giving me trouble and I had a busted ear drum. Still, I thought I outboxed him, but it was his promoter Greg Cohen's show. That fight opened my eyes. Everything happens for a reason. It's strange, though because my loss and my two draws have all happened on fights aired on Showtime. It's almost like it's bad luck, but it is what it is.
ML: You got back on track last December on the undercard of a Jermall Charlo fight in Brooklyn, which was a majority decision win over Immanuel Aleem. That had to feel special.
Oh yeah, it was and you know, I came down to 160 (pounds) and I felt great. We had signed to fight at 160. The morning of the fight, I woke up at 161 and he had to shed a few pounds. He was 164 and so, they switched the contract. I was 163 when we weighed in. It was a disappointment because if both of us had been at 160, then that bout would have been for the WBC Silver belt.
ML: So, all things considered, do you think you'll stay at 168 or go back down to middleweight?
I'll definitely go back down to 160. As a super middle, I'd weigh 166 to 167 on the scale and then 173 on the night of the fight. The guys are really big. At 160, I can feel like the big guy so I can walk them down.
ML: Thanks a bunch for your time today, Ron. Quickly, let's get your opinion on a familiar topic since you basically have firsthand knowledge of the subject. You train with Canelo Alvarez and his team. What type of change do you think his new trainer, Eddy Reynoso and his dad (Chepo) will have on former heavyweight champion Andy Ruiz, who just joined the side?
I think Eddy will help him a lot with his head movement and throwing combinations. He'll get in some solid work with them.
ML: After he stunned the boxing world by beating Anthony Joshua, where do you think it all went wrong for him?
It's hard to say because he came from the streets. He basically got off the couch and upset the world and I think he took the rematch too fast. Hopefully, he invested some of the money he made from those fights. He worked his whole life towards the big moment and he suddenly got all these millions. There's a certain work ethic that makes champions and it's all in how you do it. You gotta bite down.
ML: Here's to hoping you're in that position one day. What do you think you'd do?
Not much. Probably just one nice car and a nice house for my mom.
ML: Lastly, who's on your radar? You're 30 now, so who do you want to fight?
Jermall Charlo. Definitely him. Let's get it.
Contact the Feature Writers