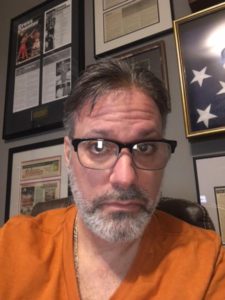 Compiled by "Bad" Brad Berkwitt
Trump's Daily Mishandling of Covid-19 Pandemic
Good Morning Mr. Berkwitt,
I am writing to express how touched I am by the article "Stepping Into the Ring: The Fight for PPE". My daughter is a nurse in one of the COVID hot spots, and this article resonated with me.
First and foremost, I would like to express my condolences to the family and loved ones of Kious Kelly. From all accounts, he was caring, sympathetic, compassionate- everything any of us desire in a medical professional.
I am angered by the response of politicians, especially Donald Trump! His continued denials as to the PPE shortages, his minimization, his blaming others, his excuse… this is truly deplorable.
I reflect on his vulgar term of a sh*thole country when referring to Africa, yet the United States is not even providing the most basic PPE for its frontline workers, leaving them exposed to this dreadful virus.
It is my prayer that Ms. Sherron is able to get legislation passed to assist in getting what is needed for these heroes.
I may not be in the ring, but I am definitely in her corner!
Lynn E.
Valparaiso, Indiana
Devoted Trump Followers Will Need "Special Handling"
Dear Editor,
Every day we're out there observing & reacting to Trump and his insanity… but I keep thinking about the people who support him. How misguided they are. And when Trump is out, what they will do. We can't leave this hanging. Our nation is ripping apart in quarters – wealthy/middle-lower class; Left/Right politically. Joe Biden will certainly be better than Trump, but he'll be inheriting a nightmare.
Trump "gutted" government. He also stoked a renewed hateful group that isn't going to just "give up" when Trump is out. If we don't find a way to reach a peaceful understanding, America will physically fracture.
Gary K.
Hoboken, NJ
Trump and McConnell Must Go In November
Dear Editor,
I just saw on Twitter an article you ran where Mitch McConnell admitted he lied on President Obama. The Republican Party that my old friends were in, and we debated tooth and nail on policies, is gone thanks to Trump and McConnell. Poetic Justice would be if both of them lose in November!
Paul L.
Beverly Hills, CA
Biden Needs To Pick A VP Already
Dear Editor,
Joe Biden needs to pick a VP already to get some big news cycles in!
Jason B.
Springfield, IL
Use the form box below and pull the menu down to send your "Letters to the Editor" to: "Bad" Brad Berkwitt. Please add your name, city, state or country where you are writing in from. We always like to give credit to our readership.
Contact the management team