[AdSense-A]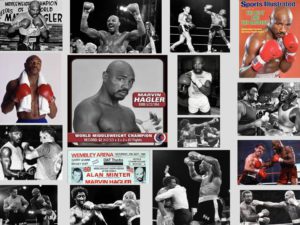 By Vinny "Glory Days" Lucci
If one could build the perfect middleweight by design it would be preferred to have a subject who lived in the gym and was a predatory beast of Pangaea origins. A prototype of muscular sinew and a compass for a brain that points only to destruction. The ultimate warrior must have a beard of Kevlar and a skull of titanium with iron ore in either set of knuckles. The balance would be a seamless foray inside the pocket on balls of the feet and could stand flat footed and defend real estate with any fighter who dare had the balls to meet the challenge.
Just to make the ominous project an artistic masterpiece, add the southpaw stance for some whimsical carnage of epic proportions and you'd have a disciple of the devil himself. Enter Marvin Hagler; ultimate hombre of both historical and nightmarish proportions who once evoked the immortal Joe Frazier to utter these words of encouragement and frustration. "You have three strikes against you. You're black, you're a southpaw and you're damn good."
Boxing trainers of extraordinary understanding would be the first to converse that such men are born, not made. With encyclopedic acumens and decades of tutorials it is clearly understood if never spoken that such a specimen must have God given focus to match the skillset of fisticuffs that separate the great champions from just belt holders.
As almost requirement in the "hurting" business Hagler came from humble beginnings where there were always two common denominators; hunger and the eternal raw desire to set himself apart from mere mortals. Standing 5' 9 ½" with a 75" wingspan he carried 160 lbs. weight limit on the perfect chiseled middleweight frame. Marvin was raised as a child in Newark New Jersey's Central Ward but at age 12 his family was forced to move to Brockton Massachusetts following the Newark riots of '67 where tenements were burned down including the Hagler family dwelling.
Two years later he confidently strolled into the newly opened boxing gym of Guerino "Goody" and Pat Petronelli who took on the double duty of co-trainers and manager quickly guiding Hagler to a 55-1 amateur career. It wasn't discovered until a decade later that Hagler lied on his paperwork making himself two years older so he could participate in tournaments. The fiery middleweight was eager to get his career underway and turned pro in 1973 without the fanfare and notoriety that Olympic Gold status provides. Hagler would run rough shod thru his first 17 opponents all of durable "chip on their shoulders" variety including a unanimous decision over '72 Olympic Gold Medal winner (light welter) Ray Seales in just his fifteenth professional fight.
Seales would get a rematch three months later and took Marvin to majority draw. The unsatisfactory results propelled Hagler to continue digging through the best work that the Petronelli's could provide within the comfort and confines of fighting in Massachusetts. They also set Marvin up in construction as a skilled laborer (brick layer) by day where the rigorous strength needed kept their protégé lean and focused on a better life ahead. Only now, other managers were not eager to risk their glory hounds and bonafide contenders anywhere near the quickly developing ring icon unless he was prepared to travel to their backyards and risk the advantage of hometown decisions. Hagler was about to invade the Monzon era willing to trade blows with any man who dared block his path to ascendance.
At 25-0-1, 20 KO's Hagler would learn that clawing his way through the next tier of 160-pound undomesticated savages with leather hand wraps would not only challenge his skillset but make him a better fighter for it. First up would be a valuable lessoned learned losing a majority decision to Bobby "Boogaloo" Watts in his home town of Philadelphia. Impartial media coverage thought Hagler deserved the nod. After a quick devastation taking Matt Donavan out in two rounds, He lost a unanimous decision to Willie the "Worm" Monroe, again in Philly over the course of ten rounds. Many historians credit this being the only actual blemish in Marvin's entire career where he wasn't hijacked on score cards.
The fistic wake up call even though it was a competitive encounter saw Hagler switch gears and take his talent to the next level where he earned the moniker "Uncrowned Champion" by the Associated Press. Hagler would collect heads in retribution while working on a clean 20 bout win streak that included avenging loss to Monroe by KO in 12, and again by stoppage in two uncontested rounds. He also embellished his record with a third round KO of Reggie Ford, two KO'S over rugged Kevin Finnegan and a unanimous decision over a tough as nails gate keeper "Bad" Bennie Briscoe. Added to the mix an 8th round stoppage of his replacement Eugene "Cyclone" Hart. Just to put an exclamation mark on the compilation of impressive ledger wins Hagler took out old nemesis Ray Seales in less than a minute and a half.
While this gauntlet finally established Marvin as a serious threat to Carlos Monzon's title reign, the best available contenders wisely avoided Hagler to ensure their own title shots. Among them Emile Griffith, Jose Napoles, Tony Mundine, Rodrigo Valdez and Nino Benvenuti. Regrettably, this left smooth boxing contender Ronnie Harris off everyone's dance card.
Finally, with Monzon retired the vacant tile was claimed by Rodrigo Valdez over Bennie Briscoe, but lost in first defense to Hugo Corro who in return lost it in first defense to Vito Antuofermo. Marvin Hagler was now officially ranked number one and the mandatory contender for Vito's crown. Since Antuofermo was not himself the number one contender he was obligated to honor Hagler's position before making a voluntary defense. This was the "glory days" of boxing with only two titles, no Alphabet soups, fifteen rounders and you earned your shot, your promoter didn't buy it.
In November of '79 the live gate at Caesar's Palace in Nevada witnessed a tough chain saw as the champion battled the fight of his life as Hagler controlled his fury for two thirds of the contest but then inexplicably lose steam by either fighting cautiously or couldn't continue the pace he set for himself. Either way, Hagler allowed Antuofermo back into the foray and judges ruled it a draw. Most ringsiders and worldwide media thought Hagler comfortably won 9 rounds but was reminded of that valuable lesson learned a long time ago. Whenever possible, never leave the outcome of a bout to three strangers with ball point pens.
The powers that be and a stock pile of contenders were ironically wishing that somehow Marvin was just going to fade away not realizing the "Hagler years" were upon them like a storm of locusts that wasn't leaving anytime soon without the intervention of God himself. Britain's Alan Minter had been made the mandatory contender and outdueled Vito for his title over 15 rounds. Hagler had to fight his way back through the carnage they placed before him while others were enjoying the short lived life style of royalty pretending to be king. They lined up three more contenders that Hagler eliminated in short order. Within three months he executed Loucif Hamani and old acquaintance Bobby Watts in two rounds a piece, and after a nine-day camp gave Marcos Geraldo a ten round workout winning by unanimous decision. Geraldo elected to move to his left against his tormenting southpaw and never backed up his prefight braggadocio. When he did trade in ring center, he felt Marvin's fury.
Hagler now once again positioned himself into mandatory title contention where Minter was coming off an eight-round stoppage of Antuofermo in a voluntary defense. Marvin had to travel across the pond in September 1980 to Wembley Arena in England and proceeded to exhale seven years of frustration and administered a thorough beating of the slightly favored champion turning him into a bloody mess forcing a third-round stoppage. The new champion's corner was disgracefully pelted with every nearby projectile purchased from concession stands. The indignation of the moment would propel Marvin's quest for greatness where he was later named the "fighter of the decade."
The marvelous one would officially have his name changed from Marvin Nathaniel to Marvelous Marvin Hagler in 1982 after dispatching of mandatories Fulgencio Obelmejias in 8 and Mustafa Hamsho in 11, sandwiched around a voluntary rematch with Vito Antuofermo where he busted up his rival handedly in four bloody rounds. A one round demolition of William "Caveman" Lee set up his next three mandatories where the king was so dominant, he only had time for number ones! Obelmejias would get a rematch falling in five rounds in the knockout of the year. Brittan's Tony Sibson made the near fatal mistake of challenging Marvin peaking on perhaps his finest night and fell in 6.
Next up Wilfred Scypion was thought by handicappers to have a legitimate puncher's chance but was stopped in four rounds. Ring great Roberto Duran moved up one division to take on the challenge but boxed from just outside the pocket where Hagler refused to be baited into traps resulting in a unanimous decision for the champion. Juan Roldan was the next mandatory getting starched in ten. Roldan was credited with a flash knockdown but it was an erroneous call by referee Tony Perez who failed to see the Argentinian brute loop a punch that Hagler ducked under then pulled him off his feet. In 67 professional fights Hagler proved to have the best chin in middleweight history having never touched the canvas with anything besides the soles of his shoes.
The Hagler era of dominance was truly a spectacle to behold and fans not dare the "Monzon debate" while he remained aloft on the throne. Marvelous Marvin owned the middleweight division but he was surrounded by hall of famers above and below him. After taking fighter of the year honors twice he rose above the pantheon of ring immortals and widely considered the best boxer extent. The ever presence of Thomas "Hitman" Hearns looming along side him brought about the fight of the year billed as "The Fight," but will be forever remembered as "The War." The two combatants threw any concept of boxing out the window and imitated gorilla warfare with the declaration that hell was now in session. After eight breathtaking minutes of non-stop violence, Tommy's legs finally gave out to gravity producing perhaps the most thrilling fight in the history of boxing.
One year later John "The Beast" Mugabi would replace Hearns as the number one contender fighting the fight of his life and providing Hagler with his toughest, yet still fell in eleven action pack rounds. It is said, Marvin didn't just stop fighters, he ruined them.
With 12 successful title defenses under his belt Marvin mulled over the thought of retirement. The concept of adding names who lost their place in line didn't appeal to Hagler as not a living soul believed that Curtis Parker, Dwight Davidson, Wilfred Benitez, Bobby Czyz, Alex Ramos, Frank Fletcher or Don Lee had a shot in hell of beating him. Guaranteed "Hall of Famer" and financially secure with a 62-2-2, 52 KO's ledger the timing looked perfect to walk away from the vocation of ring wars and glory; and then finally the long-awaited call from none other than Sugar Ray Leonard…
Keep an eye out for Hagler's "last stand" in the next Ringside Report edition of "Vinny's Views."
Contact the Feature Writers