[AdSense-A]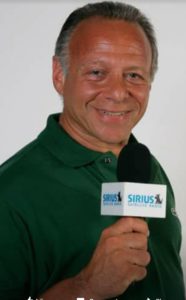 By Randy "The Commish" Gordon
It's strange how things happen. You can be in the wrong place at the wrong time and face sadness, unhappiness, tragedy or disaster. Or, you can be in the right place at the right time and run into happiness, elation, success and prosperity.
It's called "Sliding Doors."
Here's how it works. You had a choice of several jobs. One offered more money than the other two. Another offered decent pay with fewer office hours required. Another offered less money than both of the others, plus longer office hours. But, they also offered better benefits, along with a promise of advancement and a career. You chose the third one. It didn't take long before you realized you made the right choice. While it hasn't been all peaches and cream, (what job is??), you've made a living doing it. You've paid your bills.
You still enjoy doing the work. Meanwhile, the two jobs you turned down were with companies which have long since gone out of business. You were in the right place at the right time. You made the right choice. You had open doors to walk through and you chose the one best suited for you. Sliding Doors. You are sitting at a red stop light. It turns green. Instead of proceeding as one normally would do after a light changes from red to green, you look to your left. A truck is barreling through their light, which has just changed from green to red. You hit the brakes. In doing so, you just saved yourself from being torpedoed by the speeding, reckless driver. Had you not looked, then stopped.
You may have been seriously injured, or even killed. One moment you are frightened, but otherwise, alive. Another moment… Sliding Doors. It was this week in 2009, when I walked out of Studio 5 at the SiriusXM studios in New York City, finished with another MMA show—Fight Club—which I had been hosting for the previous two years. In 2007, I heard that auditions were being held to host an MMA show at the growing satellite station, and decided to give it a shot. Although I had banned MMA some 15 years earlier, while Chairman of the New York State Athletic Commission, MMA's rules had changed since my departure, making it much less of a blood-letting sport, and I began following it. I entered the Fight Club auditions. While all who entered had knowledge of MMA, and many had what I call "radio voices," none could say the were a former state commissioner. I got the job. Then, two years later, Sliding Doors. I was in the right place at the right time. After wrapping up another Fight Club, I thanked my Producer, Associate Producer and intern. I told them I was going to stay in the studio and finish a story I was working on. Around a half hour later, I was finished with my story.
I pressed "Save" on my computer, packed up my notes, threw everything into my backpack, then headed to the big door to the soundproof studio. I opened the door and stepped into the hall—and and a few feet in front of the path of the President and CCO of SiriusXM—Scott Greenstein. "Hi Scott," I said. "Hi Randy," he said as he blew past me. Then, he threw on the brakes and stopped. He turned around and looked at me. Then he asked, "Randy, were you just finishing with your MMA show?" "Yes, Scott," I answered. "Fight Club." Looking at me a bit puzzled, he asked, "Why are you working here and doing an MMA show? I've heard it and it's good, but why aren't you doing a boxing show? You are one of the top authorities of the sport. You should be doing a boxing show!" I shrugged, then answered. "Two years ago, I heard there were going to be auditions for an MMA show. I came in, tried out and was hired." "I get that, but you really should be doing a boxing show." Greenstein said, making a statement.
"We should be doing a boxing show here, don't you think?" This time, he wasn't making a statement. He was waiting for an answer. My eyes opened wide. "Sure, I do!" I fired back, excitedly. "Hmm," he began. Then he asked, changing the subject, "What is Gerry Cooney doing these days?" It was confusing. First, SiriusXM's President was asking me if we should be doing a boxing show. In the next breath, he was asking what Gerry Cooney is doing. "I know he lives somewhere in New Jersey with his family," I said, looking at Greenstein with wonder. "Do you know him?" Greenstein asked. "Are you friendly with him." "Sure, I know him," I replied. "And, sure, we're friendly, but it's been awhile since I've spoken to him." "You know," said Greenstein. "I have always wanted to meet Cooney. Do you think, if I sent a car for him, he'd come in so I can meet him?" I shrugged and said, "I don't see why not." "Good!" he replied. "I'll be in the office every day next week.
See if you can get a hold of him and ask him if he could come in around 1:00 any day. If he says yes, just find out what day works for him. My office will set up the rest. Good seeing you, Randy." Greenstein turned and walked away. I stood there for a moment, dumbfounded. Perplexed. One moment, the President of SiriusXM was asking me if I thought we should be doing a boxing show. The next second, he was asking me if I knew Gerry Cooney. I didn't know what was going on, but I knew I had work to do. I had to get hold of Gerry Cooney. I turned around and quickly re-entered the studio from which I had just done my MMA show in. I took out my phone and went to "Contacts." I searched for Gerry Cooney. There it was. I dialed it. I had no idea if the number was still a working one, or a number still being used by Cooney. In the two years I had been working at SiriusXM, I had not spoken to Gerry. The phone rang a few times. Then came a familiar voice. "Randy?" inquired Gerry. He had seen my name attached to the number on his phone. "Hi Gerry," I began. "What's going on?" asked Gerry. "How nice to hear your voice. What are you doing these days."
I told him about my being a show host at SiriusXM, and of the MMA show I was hosting. Then I said, "Gerry, listen. The President of SiriusXM is a big boxing fan. He told me has has always wanted to meet you. He said he'll be around all next week and would like to have lunch with you. He will send a car to pick you and to bring you home. Would you do it?" "Do you have any idea what he wants?" Gerry asked me. "I just think he wants to have lunch with you and meet you," I said. Gerry told me to hold on for a moment as he checked his calendar. A few moments later, he told me he was tied up on Monday and Tuesday, but Wednesday would work. I told him I'd notify Scott Greenstein, and that Scott's office would handle the rest. I told him to text me on Wednesday when he arrived.
The following Wednesday, at around 12:50pm. My phone buzzed with an incoming text message. It was from Gerry Cooney. "I'm downstairs at the security desk, picking up my pass." I told him to go to the 36th floor and I'd meet him in the SiriusXM lobby. A few minutes later, the doors to one of our six elevators opened. Out stepped Gerry Cooney. He looked like he could wreck the heavyweight division, which was then ruled by Wladimir Klitschko. We embraced, and I said, "Come on, I'll give you the 25-cent tour, then take you over to Scott Greenstein." "What is this meeting about?" Cooney asked me. "He just wants to meet you," I said, not knowing anything more. Cooney shrugged and followed me. I showed him Howard Stern's studio, the "Fishbowl" (our big glass studio where the superstars of Hollywood, the music world and sports world are interviewed) and the biggest, most state-of-the art studios are housed. I introduced him to Christopher "Mad Dog" Russo, the celebrity sports show host who had once been half of the famous Mike & The Mad Dog team on NY-based sports radio, WFAN. Then, it was time to meet Scott Greenstein. When we got to Greenstein's office, we looked through his see-through glass door. He was on his headset, talking on his phone. "We'll wait until he gets off," I said to Cooney. Cooney nodded. A moment later, Greenstein looked up. He smiled brightly when he saw us. He held up one finger. A moment later, he emerged from his office "Gerry Cooney," he said. "You are much bigger than I had pictured."
Then he added, "Maybe it's because you're standing next to Randy." We all had a good laugh. Then, he showed Gerry into his office. "I'll be at my desk when you're done, Gerry," I said. "Or text me when you're done." Greenstein looked at me. "No, Randy, don't leave," he said. "I want you to stay." He held the door for me, too. Gerry and I sat on a large couch in Scott's beautiful office, which is complete with posters and awards from the 1996 Oscar-winning film "The English Patient", for which he was the Producer. After a few minutes of finding out about what Gerry was doing in his life, Scott asked, "Gerry, how'd you like to do a boxing show here at SiriusXM?" "A boxing show?" repeated Cooney in surprise. "That's right? A boxing show. A boxing talk show." With a stunned, shocked look, like a kid getting that surprise gift he never expected at holiday time, Cooney blurted, "A boxing show, like with me and Larry Holmes?" Scott shook his head. "No. Like with you and Randy." Both of our faces lit up. We looked at each other in total surprise. "Is this for real?" asked Cooney. "A real show?" "A real show," said Scott. "The two of you will be the hosts." When we both agreed, Scott said he would turn the matter over to SiriusXM's President of Sports, Steve Cohen. "I will send Steve a note. We'll have a meeting about this, Steve will call you both in, decide on a name for the show, a producer for the show and a time for the show. He'll be in touch with both of you." When we left Scott's office and I was walking Gerry to the elevator, he turned and said to me, "Did you know about this?" I shook my head, then told Gerry about my chance meeting with Scott in the hall one week before. Sliding Doors. Had I been one minute earlier, or one minute later, I would not have run into Scott Greenstein. He would not have asked about Gerry Cooney. I would not have called him.
Now, it's been 11 years. Our show is technically called SiriusXM's "At the Fights," but our continually-growing audience knows us as "Cooney and the Commish." We playfully call ourselves "The Real Twins," in parody of Arnold Schwarzenegger and Danny DeVito's 1988 hit movie, "Twins." We've done everything we ever dreamed we would do as a radio team. We've been ringside for title fights from Madison Square Garden to the Barclay's Center; from the T-Mobile Arena to the MGM Grand; and from the Staples Center to AT&T Stadium. We've done our shows live from Yankee Stadium, Miami Beach and from Radio Row in Las Vegas, Dallas and Los Angeles. We've done live boxing events for PBC Boxing, with me handling the blow-by-blow and Gerry the post-round color. We are on the air every Monday and Friday, from 6-8pm (ET), on SiriusXM's combat channel, Fight Nation, 156. During the pinstead of one hour–showsast few weeks, we have been on from 7-8pm, but that's because during the COVID-19 pandemic, we've been doing our show on ZOOM. It took us a while to get used to using ZOOM, but now we are up-to-speed with it, and our two hour—instead of one-hour shows—will be returning. We goof with each other on the air, playfully yell at each other and laugh with each other. We have a longtime listening base of boxing fans and we are picking up new fans all the time. Our guests are many of the top names in the business. In recent weeks we've had on seemingly everyone from (Bob) A(rum) to (Xander) Z(ayas), Top Rank's 17-year-old welterweight prospect, as well as everybody in between, including champions, former champions, top contenders, promoters, president's of networks, a lineup of boxing's top journalists and even some Hollywood actors. Some tell me I have been very lucky to have such a great job. Maybe I am. But I look at it as more than luck. I feel I've been blessed with good fortune. I call it Sliding Doors.
[si-contact-form form='2′]