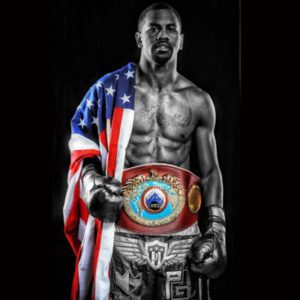 By Marc "Kid Huevos" Livitz
Is that a ray of sunshine we see upon the horizon? Could it possibly beckon better and better news in our direction as we grow all the more eager to emerge from our homes and start enjoying the early days of Summer? Dear reader, welcome back to another edition of the Quarantine Chronicles. During the last few weeks, I've been not only fortunate enough to reach out to a few fighters whom over the years have become friends of mine, but to share the experience with all of you. Despite our various walks of life, not many of us are accustomed to having to lock ourselves down as well as out of sight while an invisible enemy takes its time to get out of our lives.
Professional fighters are no different, as we've learned over the first few editions of this series. Yet unlike its previous entries, this article is the initial chat with a world champion. I first met current WBO super featherweight champion Jamel "Semper Fi" Herring almost ten years ago, when he was part of a contingent of Marines who were enjoying a night out at the fights right here in Austin, TX. Herring was one of several servicemen who were brought into the ring later that night in order to receive well wishes from the crowd as he was already deep in training for the upcoming 2012 London Olympics.
After departing from his hometown of Coram, New York, Jamel enlisted in the United States Marine Corps in 2003 and went on to serve two separate tours of duty in Iraq. He began his climb up the amateur ladder in 2009 and completed his time with the USMC three years later, at which time he made his professional debut in December of 2012. In the time since, Herring, 21-2, 10 KO's, has faced all challenges with the same discipline and will to prevail as he did while working towards the rank of Sergeant within the branch of the service which began protecting our land before it was officially a nation.
"Semper Fi" captured the WBO world super featherweight title last Memorial Day weekend by way of a resounding unanimous decision victory over Masayuki Ito in Kissimmee, Florida. From his home base of Cincinnati, Jamel shared a few minutes of his day with me last weekend and as always, the champ conducted himself like a gentleman and was eager to share what he's been up to with us here at Ringside Report.
ML: Hi, Jamel and thanks so much for taking some time out to talk with me again. I've spoken with a few fighters about how the Coronavirus pandemic has affected them and their lives, so with that said, what were you doing and where were you when the news hit that everything had to stop?
"I was actually in California with my partners trying to handle a management deal for one of our fighters. The day I flew out is the day that everything shut down and I came right back home. The quarantine started the next day for me here in Cincinnati."
ML: In the time since the shutdown, what have you been able to do?
"I wasn't able to do much. I just did a lot of running, some other kinds of cardio and ab workouts at home. All gyms were out of the picture. Still, I stayed disciplined and kept that Marine Corps mindset. I always watched out when I put weight on."
ML: You've got a few young kids at home, so time with them must be nice.
"Yes, for sure. I knew everyone was basically going through the same thing, so I just turned something negative into a positive. We've had nothing but time now and I've enjoyed it. It's meant being able to spend time with my family. That was nice for a change because I'm always used to moving around."
ML: So, it sounds fair that the little demons didn't get you? Not many late nights, staying up late and eating some bad stuff?
"I played some video games but I didn't stay up all night. When I came back to the gym recently, I was glad with how good I felt. I make sure to eat right and get rest. It wasn't that hard when I got back in and my trainers were impressed. I normally walk around at 147 (lbs), but I never get higher than 150."
ML: That's smart because so many fighters use too much of their training camp to cut down in weight. Are you planning to stay here, at super featherweight?
"I'm comfortable here. That's why it's easy to stay disciplined outside the ring. I have a nutritionist team and they know where I need to be. They asked what I had a taste for and they made it great with the right nutritional value."
ML: You've been a world champion for almost a year now. In contrast with the previous seven years of your pro career, what changed the most?
"Things have been good. I'm proud that I stayed the same person. I just wanted the respect back. I didn't care so much for the money or media attention. It's been a great year. I wake up every day and remember where I came from"
ML: Okay, so to piggyback on that just a bit, what have you learned from the first time you stepped through the ropes as a pro until now?
"One thing that sticks out is that this business is cut throat. There's been times when I was made aware of people's agendas and the knowledge that I can be replaced. I look out for a lot more nowadays for sure."
ML: There's been lots of talk of you facing Carl Frampton in your next bout. Given the current situation, what can you tell us?
"I was willing to go to Northern Ireland to make that happen but then, this thing hit and we can't travel. We can't have huge crowds. We know that it's not possible for next month because no huge gatherings are permitted. I've been told that if things get better, that fight may happen in November or December. As of now, Top Rank asked if I'd fight in Las Vegas on July 2 without a crowd. I'll see."
ML: So, if you had to fight in an empty arena just to keep things moving, what would your thoughts be on that possibility?
"I wouldn't have a choice. You have to do what you need to do. It's reasonable even now because I have people to take care of. Our health comes first. That comes ahead of everything."
ML: Sounds good and I'll close by posing this question to you. I've asked a few of the guys I've interviewed so far for their take on one-time heavyweight champion Andy Ruiz joining up with the Canelo Alvarez camp. He shocked the world by beating Anthony Joshua, then he lost his titles in the rematch and looked bad in the process. Can they help or does the tiger, so to speak not change its stripes?
"Honestly, Marc, I'd have to say the latter. I think a tiger doesn't change his stripes. I've heard things from his trainers in the past, even before the money and the fame. Basically, Andy did what Andy wanted to do. He may be able to learn a few things and techniques. He's made so much money over the last few fights and hopefully, he still has some in his accounts."
"Some fighters enjoy the benefits and not the discipline part of it. I wish him the best, but Manny Robles was one of my coaches during the Olympics. The rematch with Joshua was announced and Andy wasn't reporting to camp or to train. He may have been putting up old videos to fool the public. They can't force you to train."
Contact the Feature Writers