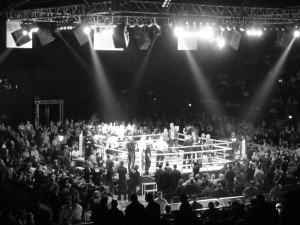 By Anthony "Zute" George
It seems like the UFC has set the pace for live sports to resume. Or, perhaps it was just a coincidence that Bob Arum announced that there would be live boxing in June, shortly after UFC 249. Either way, it gives boxing fans a much-needed adrenaline shot to watch live boxing once again. Great news.
However, if we peel the onion on this dynamic, we must be mindful of a few variables. Like all sports that return, it sounds like boxing will return with no live audience. It is probably the only way it can return. If that is the case, the silence of the crowd will indeed be a big part of the story. When UFC 249 started, one of the first things that were addressed by the announcing team was how the silence was a major distraction. Now, it did not affect the fighters much in the sense that most of those fights produced great action. But the non-crowd was a contributing factor to the analysis of the fight, as it would be for any sport that plays in front of an empty stadium/arena.
Boxing fans, imagine watching Vasyl Lomachenko and Teofimo Lopez in a pitched battle with zero crowd noise? I know what you are thinking, you would be happy just to see the fight. That is the part that indeed goes without saying, but there is no way the silence will not be a factor while watching.
With that said, boxing does have somewhat of a litmus test for this dynamic.
When Buster Douglas shocked the world in Tokyo-although listening now to how many boxing fans knew the upset was coming, is it really that much of a shock- the fight might as well have been played out in front of an empty arena. The Japanese spectators sat on their hands and virtually made zero noise while one of the most significant fights of all time was unfolding. And it was indeed part of the story. Both Jim Lampley and Larry Merchant referred to the silence on more than one occasion. When Tyson came back and knocked Douglas down, had that happened in the United States, the decibel level would have been equivalent to a Springsteen concert. To see such a shift in momentum, occur with virtually no reaction, certainly changed how it was perceived. And who knows how a frenzied crowd might have affected the fighters. Could it have woken Tyson up more, would it have caused Buster to lose focus or get nervous, a pugilist who had a history of not responding to pressure that well?
Now, there is boxing in Japan all the time, and the fights that I have observed featured solid crowd support, so I am not exactly sure why the crowd was so docile on that evening.
In one way, the lack of a raucous crowd does not change the dynamic of that fight at all. In the sense of where it fits in boxing history. But it certainly would have changed it in some way while it was happening.
I am one who is abiding by the social distance rules immensely. Because what good is freedom if you cannot breathe? So, I do not want to see any sports be played out in front of a broad audience anytime soon. At the same time, I understand why all sports, not just boxing, have to get it going again. But especially for boxing, not only because I love it so, but because more people in boxing need their paychecks, then let's say baseball and basketball players. Most pugilists never get paid close to what the league minimum is for those sports.
At the same time, we cannot ignore the fact of how empty seats will affect a sport that has always thrived on a raucous live audience.
Exactly how it will be affected?
Stay tuned…
Anthony "Zute" George is the Author of Tough Man: The Greg Haugen Story, a new boxing book that covers the skilled champion from Auburn, Washington, as well as the scope of the times during his days of pugilism. 
Purchase your copy from Amazon.
Purchase your copy from Barnes & Noble.
Contact the management team