Errol Spence, JR. Set to Face Danny Garcia
[AdSense-A]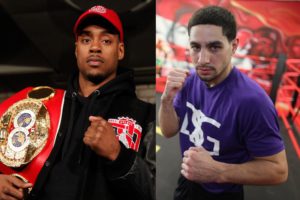 By Anthony "Zute" George
Errol Spence, JR. is one of the most exciting stars in boxing today. And that is all he could be. His skills have caught the eye of boxing fans, pundits, and promoters. Oscar De La Hoya once expressed how he wished he could sign the southpaw. Errol has notable wins against Chris Algieri, Kell Brook, Lamont Peterson, Mikey Garcia, and Shawn Porter. His last win against Porter was also a fantastic battle that boxing fans still discuss across social media.
Unfortunately, the biggest fight Errol could have against Terence Crawford seemed very much out of reach for a long time, however. Indeed, a fight with Top Rank Boxing's Crawford seemed as far-fetched as the ambitions of the cartoon, The Jetsons. Indeed, it was even money that boxing fans would be able to fold their space car into a briefcase before a Spence and Crawford showdown would occur.
With that said, after the promotional success of the Tyson Fury and Deontay Wilder showdown, the prospect of one of the most anticipated boxing matches in recent did not seem as far out of reach. Then, Errol got into a horrific car accident. Before the boxing shutdown due to Covid-19, the hottest boxing discussion was whether or not Errol Spence, JR. would ever box again. Let alone against The Shape Shifter, Bud Crawford.
That question appears to be answered, as some outlets are reporting Spence will return to the ring against Danny Garcia. I must caution you that this fight has not been officially announced yet by, what I think are the more reliable media outlets, not unanimously anyway. But the information does appear to be stable enough. I say that with some caution.
If this fight announcement is indeed genuine, it is a very ambitious return for the southpaw Spence. Danny Garcia is a tough fight for any welterweight. He has a very sturdy chin, as well as above-average boxing skills and power. He would have been a tough matchup for Spence even before the accident. Throw in the caveat of Spence's horrific injuries, including having anchors in his mouth, it becomes even more dangerous for Errol. The issues with his teeth have prevented Spence from sparring. It is unclear to me whether or not Spence has been cleared to spar yet- as of early May, Spence reported he had not been cleared yet- making the prospect of a set date for Danny Garcia one with caution.
If we are going to go on the assumption that Danny Garcia will be Errol's comeback fight, then he must be applauded for taking such a risk. It is easy to pile on a guy like Mr. Spence, as the actions that caused his car accident were irresponsible and reckless. Not just himself, but to others. But we always have to be careful when judging others. Also, to judge Spence as a pugilist should be separate from what led to the accident. To a certain degree, anyway.
Regardless of your take on it, Spence is a super talent who does not appear to be taking an easy route back to the squared circle. And for that, we should appreciate him as a boxer.
As for Danny Garcia, indeed, he has been in many big fights. While he has always been good enough to be competitive in these fights, Danny has never been spectacular enough to move the needle in his favor in his biggest fights, Keith Thurman and Shawn Porter. Before his injuries, it could be argued that Spence was more talented than anyone Danny has faced. A victory for him in this position is a great opportunity.
I do not want to get too ahead of myself in terms of analyzing this fight, as I am not 100% convinced this fight will go off as reported. No disrespect to anyone, but if Fight News has not yet reported it you have to remain skeptical.
If it does, it will be just as much fun dissecting as it will be watching. And for me, that is a rarity.
Will boxing fans be treated the way they should be?
Stay tuned…
Anthony "Zute" George is the Author of Tough Man: The Greg Haugen Story, a new boxing book that covers the skilled champion from Auburn, Washington, as well as the scope of the times during his days of pugilism.
Purchase your copy from Amazon.
Purchase your copy from Barnes & Noble.
[si-contact-form form='1′]