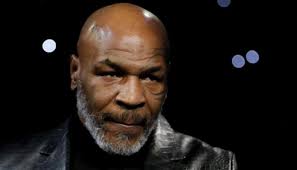 By Anthony "Zute" George
Okay, so you want to talk about Mike Tyson fighting again? Let us do that. When I first saw the posts of Mike Tyson wishing to make a comeback, I did my best to ignore the news. If it was, in fact, true. Even when I saw he adopted a vegan diet to get in shape, as I am a big advocate for going vegan, I ignored it. And, indeed, Mike looked in fabulous shape in the pictures I have seen of him. But I still wanted to ignore it. Tyson coming back at this age, after being off so long, with the way he finished his career, who would want to see it?
Then it dawned on me. If this is what he wants to do, and is cleared physically in an honest way, who am I to take money away from another man? Because money has to be a big reason for Tyson wanting to do this. Money. It often turns into greed, and, with getting into politics, greed is the American way. The American people will put up with a lot in return for a handsome portfolio. Grabbing with both hands is how we would describe it in the Bronx. My message to Mike Tyson is, please do not be greedy.
If Mike Tyson, or Evander Holyfield and Oscar De La Hoya, the other two fighters who have been rumored to want to come back, want to fight again, then they should take a book out of the page of Big George Foreman. Earn your stripes before you expect us to see you fight.
Big George was inactive for almost ten years when he faced Steve Zouski in 1987. Iron Mike defeated Steve in 1986. At the time, few took Foreman seriously. While his goal was to once again to become the heavyweight champion of the world, he was not asking anyone to pay to watch him fight for quite some time. Foreman had twenty fights before he embarked on a pay per view journey against Gentleman Gerry Cooney. I will repeat, twenty fights. Most of these fights were on ESPN. That is commitment. With that said, there were still many critics of The Preacher Versus The Puncher in 1990. Well, we all know how Foreman's journey unfolded, and it is one of the greatest stories in boxing history.
I do not expect Mike Tyson to log off that many fights before he is asking customers to shell out big money to see him fight, but a few fights on ESPN first would be nice. If he is indeed serious about doing this. After all, Mike Tyson looked like he had very little left in his last few fights; conversely, Foreman was last seen losing a close, competitive fight against Jimmy Young during his first run. Tyson was stopped by Kevin McBride in 2005 in his last fight.
For Tyson to ask customers to pay a high price to watch him fight for the first time would be a misdemeanor. Many boxing fans would not mind one bit getting robbed by the most sensational zenith to ever lace up the boxing gloves. No, I do not think he is the best ever, far from it. In fact, I was telling anyone who wanted to listen that Evander Holyfield would beat Tyson way before Tokyo. But there is no denying Mike Tyson captured the attention of the world like no other fighter. On his sheer performance inside the ring. You could argue that Ali had more clout, but a lot of that had to do with his chatter and the Vietnam draft. For Tyson, it was virtually all with his fists.
But that version of Mike Tyson has been in the rearview mirror since the early nineties. Although Tyson still has his popularity. Fans remember and yearn for those days, much like a lot of nostalgia. Well here we are today, and Tyson wants his fans back, will you let him rip you off?
I will say now that there are some rumors that if Mike Tyson does fight, it will be a charitable event. If that is the case, I apologize ahead of time and anything they might charge to give to a charity, I am on board. But what are the odds of that happening? Only time will tell.
Either way, I think it is safe to say that if Mike Tyson does make a comeback in any capacity, it will cost fans a ton of money.
Will you buy it?
Stay tuned…
Anthony "Zute" George is the Author of Tough Man: The Greg Haugen Story, a new boxing book that covers the skilled champion from Auburn, Washington, as well as the scope of the times during his days of pugilism.
Purchase your copy from Amazon.
Purchase your copy from Barnes & Noble.
Contact the management team