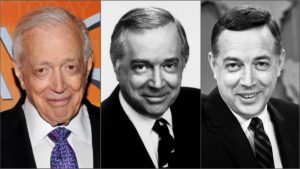 By Geoffrey Huchel
Hugh Downs, longtime 20/20 anchor died July 1, 2020 in Scottsdale, Arizona. He was 99.
Downs was co-anchor for 20/20 (1978) opposite Barbara Walters from 1978 until his retirement in 1999. He also served as anchor for TODAY (1952) from 1962-1971.
Career highlights for Downs include announcing duties for CAESAR'S HOUR (1954), THE ARLENE FRANCIS SHOW (1957), THE TONIGHT SHOW (1962), THE JACK PAAR TONIGHT SHOW (1957), and host of the original version of the game show CONCENTRATION (1958). In addition, Downs made appearances on several television series and movies, such as RIVERBOAT (1959), THIS IS YOUR LIFE (1952), ROWAN & MARTIN'S LAUGH-IN (1967), CAR 54, WHERE ARE YOU? (1961), LIVE FROM LINCOLN CENTER (1976), OVER EASY (1977), OH, GOD! BOOK II (1980), and CALL TO GLORY (1984).
Downs was nominated for two Primetime Emmys for his work on CONCENTRATION and TODAY and won two Daytime Emmys for OVER EASY and LIVE FROM LINCOLN CENTER.
Ringside Report sends our condolences to Hugh Downs' family in their time of grief.
Contact the Feature Writers