[AdSense-A]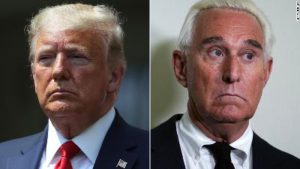 By Nikki Slusher
Another day, another headline I see that really makes me believe 2020 is a simulation. Roger Stone, a longtime friend and former top campaign advisor to the President, had his sentence commuted just days before he was supposed to report to prison to serve a 40-month sentence. Stone was arrested early last year and convicted on several felony charges in February, including witness tampering, obstruction of justice, and five counts of making false statements to Robert Mueller's special counsel on the Russian interference in the 2016 presidential election. Regardless of your beliefs on that subject, Mr. Stone lied to the U.S. House Intelligence Committee about his campaign contacts and involvement with WikiLeaks.
This is not the first time Roger Stone has been in headlines. A self-described "dirty trickster" and "agent provocateur," Stone has quite the colorful history. At 20 years old he played a role in Richard Nixon's infamous Watergate scandal, whom Stone has tattooed on his back. In the 1980s, he co-founded a lobbying firm with properly nicknamed "the torturers lobby" due to its work representing dictators, including Ferdinand Marcos of the Philippines and Mobutu Sese Seko of Zaire. One of his firm's partners, Paul Manafort, is the President's former campaign chairman who was found guilty on tax fraud and conspiracy in March 2019.
It is no surprise to anyone as we have previously seen the President's interference with multiple federal investigations. This has happened numerous times throughout his term, even once before with Mr. Stone's case in February when the President had Stone's sentence dropped from nine to three years against the recommendations of several federal prosecutors and supported by Attorney General William Barr. Against the wishes of many of his advisors, President Trump signed an Executive Grant of Clemency yesterday commuting the "unjust sentence" of Roger Stone, cited in White House Press statement that "At this time, however, and particularly in light of the egregious facts and circumstances surrounding his unfair prosecution, arrest, and trial, the President has determined to commute his sentence. Roger Stone has already suffered greatly. He was treated very unfairly, as were many others in this case. Roger Stone is now a free man!"
No one is really surprised by the President's actions or reasoning behind commuting Mr. Stone. He simply did not like it, and in traditional fashion he decided to take it into his own accord to ensure everyone knows nothing can stand in his way. Unfortunately, we have become used to such behaviors over the last four years. Not only is this an abuse of power, it is also blatantly undermining the laws of this country. The 'Days of Our Lives' theatrics from the President, Roger Stone, and his counsel regarding all the reasons why Stone should not have to serve his sentence, from not being able to sleep well to the risk of COVID-19. The latter one is ironic since the President is pushing all states to open school's this Fall amid daily record-breaking numbers of cases being reported.
Although many Democrats and Republicans have started commenting on the act as being a "unprecedented, historic corruption", there are some who remain loyal and quick to defend the President's decision. Senator Lindsey Graham (S.C.) claimed Donald Trump's actions were "justified" since Mr. Stone was "in his 70s and this was a non-violent, first time offense." Out of 36 pardons or commutations the President has granted, 31 of them have either advanced his or benefited someone he personally was connected to. It is not only wasting taxpayers' dollars on federal prosecutions of guilty defendants, but it also is another tactic the President is using to create a mockery of our justice system and its institutions.
Democratic Representative Jerry Nadler (N.Y.) recently shared in an interview a story from the 1788 convention where our Constitution was ratified. When the delegates started discussing the pardoning power of the president, some of them voiced concerns over it being broadly defined and possibly narrowing it down to certain instances. According to Rep. Nadler, the delegate asked "What if the president engaged in a criminal conspiracy and pardoned his co-conspirators? And James Madison answered, 'Well, that could never happen, because a president who did that would be instantly impeached.'" He concluded that our Framers "viewed the impeachment power as a limitation on the pardon power."
What this reflects, however, is a lack of accountability and respect within our political system that the Framers did not think of. In a time where the nation is charged with protests for equality, justice, and police reform, we are simultaneously fighting the collapse of the other half of our justice system. How can our government and law enforcement officials expect to create a better version of law and order when our own President does not? Currently in America there is two forms of law and order. One where all citizens of this country are equally accountable under the law, while the other form allows brazen reprieves when the leader of the free world is displeased that his friends are not given special treatments for crimes they have committed. Partisan views aside, the frustrations of many Americans are unified in response to Stone's commutation, especially after coming to the realization that Congress has already used the one check and balance it has upon this power resulting in an unsuccessful attempt at bringing any form of consequence to the President. Once again, we have witnessed the power Donald Trump is not afraid to enact with just a stroke of his pen.
Contact the Feature Writers