"Randy's Ringside" On Ringside Report: Covid-19, Donald Trump's Inability to Lead During a Pandemic, Boxing & More – A Stay of Execution!
[AdSense-A]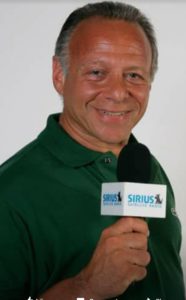 By Randy "The Commish" Gordon
COVID-19, the pandemic which has destroyed countless lives and wreaked havoc on the world's economy, is not about blue or red. It is not about left or right. It is not about Democrats and Republicans. It is not a political disease. It is a killer that doesn't take sides. Fortunately, a lot of Americans understand that.
Unfortunately, a lot of Americans don't.
You are going to read this and feel one of two ways: You are either going to love it or you are going to abhor it.
You are either going to agree or disagree.
If you plan on voting against Donald Trump in the November 3 Presidential election, you will keep an open mind while reading this, and may even have salient beliefs and thoughts on the story which is about to unfold. If you are pro-Trump, you will take a fighting stance and call it what our 45th President calls everything he disagrees with: "Fake news."
This pandemic is real. Very real.
Did it begin in China? Probably. Did it come to our shores from China? No, it didn't. It came here from Europe, which, Immunologists, Virologists, scientists and medical authorities say, most likely worked its way there from Asia. Once in Europe, it spread quickly, as Europeans enjoy traveling throughout the large, picturesque and scenic continent, with its population of well over 750 million people.
Americans journey there as well. Over the years, my wife and I have journeyed to at least one dozen European countries, including Switzerland, Germany, Greece, Spain, Portugal, Romania and Italy. In late July, 2019, we spent a week in the magnificent Italian city of Priano, in the center of the breathtaking Amalfi Coast. During our visit, the Amalfi Coast was crowded with tourists, shoppers, beach-goers, sun-worshippers and photographers. The narrow streets of the Amalfi Coast were packed with bicycles, motorcycles, economy cars, joggers and walkers. Restaurants were packed. Nobody could have imagined that, just six months later, an Italian citizen, returning from a visit to Wuhan, China, would carry with him the disease known as Coronavirus, along with the pandemic called COVID-19.
As nobody knew what the virus was about and how contagious it was and how quickly it spread, it was like throwing gasoline on a raging fire. By the time officials could react, many of those who had been in contact with the Italian man had been infected. They infected others, who in turn, infected others. Before long, Italy was engulfed. So was Europe.
Infected were European visitors, travelers and vacationers and businessmen and businesswomen. Their flights back to the United States infected many aboard those flights. They landed in California. In Washington. In New York. In Florida. And elsewhere.
Like a match dropped in a dry forest, a fire of Coronavirus engulfed everything in its path. New York, with its dozens of flights per day coming in from Europe, dropping off scores of infected people, became a hotbed for Coronavirus.
President Trump, warned about the epidemic which was striking the United States, said such things as, "I'm not concerned at all," and "this will go away quickly." He let individual states fight their own battles with the virus, and they did.
As the virus grew worse and the U.S. economy slowed to a crawl, it became apparent that lines were being drawn by politicians. As the pandemic grew and spread, businesses shut down. Some shut down for good.
Unemployment reached staggering numbers. Politicians did what politicians do best: They postured. They spoke. They formed initiatives and protocols. But they took sides, the way politicians always seem to do.
President Trump talked to his experts about how they thought the pandemic should be handled. Then, he did what President Trump does best: He did things his way. If you agreed with him, you stayed. If you didn't agree, he did what he became famous for saying on the reality show he once starred in—"The Apprentice." He said, "You're fired!"
Now, state leaders are doing what's best for them politically. Of course, Democrats are doing it one way, while Republicans are doing it another way. Do we wear masks or not? Do we distance or not?
Our Republican President frowns on masks and distancing. He is frustrated in this election year, (which is only around 100 days away), as the economy staggers, as his citizens are unemployed in record numbers, as the country reels in riots and protests.
So, President Trump did what so many of us want to do, pandemic or no pandemic. He said: "Let's get back to work." His disciples, his followers, will do whatever he says, whatever he asks, whatever he orders. The other half, who want just as badly to get back out there, are not about to follow the "Pied Piper." They know how that story ends!
So, pandemic or not, we have split sides. Some swear the President is spot on. Some swear he couldn't be more wrong. It's politics. It's politics at its ugliest. It's politics at its worst.
Many—if not all—of the nation's Republican governors, fall over each other and do all they can to abide to everything President Trump spews. Many—if not all—of the nation's Democratic governors do all they can to ignore him and do the opposite of his directives.
Can't anybody think for themselves? Can't anybody make a decision based on their own thoughts and beliefs, not on the beliefs of their party? It doesn't look that way, even in a pandemic, even in a crisis which is threatening this planet. It comes down to "In what direction is my party leaning?" instead of "In what direction should I lean?" And you thought boxing judges had trouble getting it right!
Republican governors, such as Ron DeSantis (Florida), Brian Kemp (Georgia), Gary Herbert (Utah), Gary Abbott (Delaware), Doug Ducey (Arizona), Bill Lee (Tennessee) and Kim Reynolds (Iowa) are coaxing their masses back into action. Hey, the President said so, despite the warnings of his top medical advisors.
Democratic governors, such as Andrew Cuomo (New York), Steve Sisolak (Nevada), Ned Lamont (Connecticut), J.B. Pritzkel (Illinois), Tom Wolf (Pennsylvania) and Gavin Newson (California), have called for wearing masks, social distancing and testing, despite what President Trump says.
Supporters of President Trump have been quick to point to the Chief Executive's words that "the reason we are coming up with many positive cases is because of the vast amount of testing which is going on across the nation." It stands to reason, says our leader, that the less testing we do, the less cases we will have.
Now, that is a brilliant statement. Why didn't I think of that? Why didn't you? If we don't test for Coronavirus, we won't find any more positive cases. Well, with that theory, we should stop taking mammograms, colonoscopies and prostate exams. If we don't check for Cancer, we won't find it. I also cancelled next week's dentist appointment. If I do go, he may find a cavity or three. Now, no cavities. I have also cancelled upcoming appointments with my ophthalmologist, my ENT, my internist, my urologist and my cardiologist. By not going, I won't be found to have anything possibly wrong. Thank you, President Trump, for some incredible medical advice.
However, we do know that the Coronavirus is contagious—extremely contagious. Separation and distancing is part of the answer. It is actually a big part of the answer, as is the wearing of a mask by those out in public. A recent sighting of President Trump wearing a mask while visiting Walter Reed Medical Center was the first public sighting of Mr. Trump in a mask. Because our President disdains wearing a mask, his minions follow their Pied Piper.
Next Saturday night, in Davenport, Iowa, a sickening combat event is being sanctioned by the Iowa State Athletic Commission. It is a kickboxing match between former UFC Welterweight champion Pat Miletich and former Middleweight and Super Middleweight boxing champion Michael Nunn. Miletich is 52. Nunn is 57. According to several well-placed sources at the Iowa Commission, Executive Director Joe Walsh turned the fight down. However, the event's promoter—Monte Cox—pulled some political strings and Walsh was overruled. The fight will happen.
Sadly, fans will be allowed in to view the fight. Thousands of fans. In Las Vegas every week, Top Rank has been putting on two shows per week at the MGM Grand under the tightest of medical protocols. No fans are allowed to be there in person. The fights, shown on ESPN, are announced by Joe Tessitore, Timothy Bradley, Andre Ward and Mark Kriegel. Tessitore announces from the ESPN studios in Bristol, CT. Bradley, Ward and Kriegel announce from their homes. No announcers, no crowd. Heavy medical testing.
In Davenport, Iowa, next Saturday, such will not be the case. Fans will be in attendance. A source from the commission said, "I don't expect too many fans will be wearing masks."
"Where is Governor Reynolds?" the source was asked.
"I have no idea," said the source. "Your guess is as good as mine where she might be."
Another commission source said, "If the Governor is so for this event taking place, I hope she comes with state troopers and sits ringside."
Forget the fact that Michael Nunn is a boxer, not a kickboxer. Forget the fact he is 57 years old. Forget the fact that he hasn't fought since 2002. A member of the Iowa Commission, when asked, "What kind of shape is Nunn in, answered, "When I last saw Nunn at a fight, he had trouble getting into the ring when he was introduced and had even more trouble leaving the ring. His knees are shot." Then he added, "And now he is going to be in a kickboxing match."
Shame on promoter Monte Cox for putting this on and applying pressure to get it approved by the state. Shame on the Iowa Commission for not standing up to that pressure.
Most of all, shame on Governor Kim Reynolds. I heard she was a standup politician. She has recently turned down parades, county fairs and a Fourth of July fireworks display to keep crowds from forming and spreading COVID-19.
If she is the great politician, I have heard she is, she should show the people of Davenport how great she is. She should show all of her fellow Iowans show how great she is. She should America. She should show the world.
It's one thing to let this awful matchup happen, and she should allow her commission do what they are paid to do. If they sanction it, they sanction it. If they turn it down, they turn it down.
But for Gov. Reynolds to allow the event to happen with fans in attendance, shame on her.
I know the fans are making up their own minds as to whether or not to attend the event. But people often have to be protected from their own misguided temptations. It's up to our leaders and officials to guide us in the right direction, especially when they have time and notice to do something about it.
As of now, Gov. Reynolds is allowing this travesty to continue. If anybody in that crowd develops Coronavirus, the blame falls directly on her.
That also means if there is a death—or deaths—inside the ring or out from this event, the deaths will be on her hands.
If anything, let the event take place when COVID-19 is gone. Eradicated. We plead with her to use her vast powers as Governor of Iowa to stop what will be happening on Saturday, July 18 in Davenport.
We beg her for a stay of execution.
[si-contact-form form='2′]