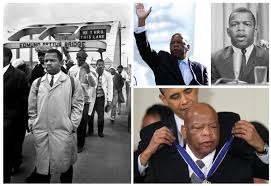 By Geoffrey Huchel
It is with deep sadness that Ringside Report shares the news of the passing of civil rights leader Georgia Congressman John Robert Lewis. Lewis died July 17, 2020, from pancreatic cancer in Atlanta, Georgia.
He was 80 years old.
As we look back at the extraordinary life John Lewis led, it's not even remotely possible to touch upon everything he's accomplished. Ringside Report pays tribute to Lewis by looking back at his life and highlights some of the events that made him a remarkable human being and an undeniable icon in civil rights and humanity.
Lewis graduated from American Baptist Theological Seminary in Nashville, Tennessee and received a bachelor's degree in religion and philosophy from Fisk University. As a student he was dedicated to the civil rights movement. In Nashville, he organized sit-ins and participated in many civil rights activities as part of the Nashville Student Movement. Lewis became one of the original 13 Freedom Riders. The Freedom Riders consisted of seven whites and six blacks who were determined to ride from Washington, D.C. to New Orleans in an integrated fashion. During this movement, the Freedom Riders were beaten and taken to jail. Lewis, who at age 21 was the first Freedom Rider to be assaulted while in South Carolina. Despite all they endured, the Freedom Riders were determined to not let any act of violence keep them from their goal.
Lewis was chairman of the Student Nonviolent Coordinating Committee from June 1963-May 1966. During his time on the committee he was one of the "Big Six" leaders of groups who organized the 1963 March on Washington, played key roles in the civil rights movement and its actions to end racial segregation in the United States.
Lewis coordinated the Mississippi Freedom Summer, a campaign to register black voters across the South. He traveled the country encouraging students to spend their summer break trying to help people in Mississippi to register and vote. Lewis became nationally known to his prominent role in the Selma to Montgomery marches, on March 7, 1965 which would become Bloody Sunday. Lewis did not allow the threat of state troopers, who urged them to stop their demonstration derail his mission.
Lewis, a Democrat, was a member of the U.S. House of Representatives from Georgia's 5th district- a position he held from January 3, 1987 to July 17, 2020.
Lewis was awarded with more than 50 honorary degrees, including 1995: Honorary Doctor of Public Service (Northeastern University), 1999: Honorary Doctor of Laws (University of Massachusetts Boston), 2013: Honorary Doctor of Humane Letter (Judson College), 2015: Honorary Doctorate of Humane Letters from the McCourt School of Public Policy (Georgetown University), 2016: Honorary Doctorate of Humane Letters (New York University), 2017: Honorary Doctor of Laws degree (Yale University), 2018: Honorary Doctor of Law degree (Boston University) and 2019: Honorary Doctor of Humane Letters degree (City College of New York).
Ringside Report sends our condolences to John Lewis' family in their time of grief.
Contact the Feature Writers