[AdSense-A]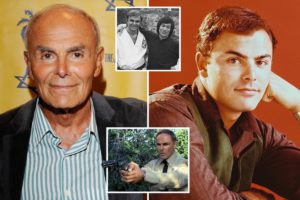 By "Bad" Brad Berkwitt
Movie and TV star John Saxon, who had been around since the early 1950s, died of complications from pneumonia at the age of 83 yesterday.
The Brooklyn, New York native played a wide array of characters and ethnicities in more than 200 movie and television appearances over a span of about 60 years.
He was best known for his work in westerns and horror movies that included high-profile roles alongside Marlon Brando in The Appaloosa (1966), martial arts legend Bruce Lee in Enter The Dragon (1973) and the original Nightmare On Elm Street (1984).
Saxon was one of those actors who always put in an honest performance on the big and small screen.
Ringside Report sends our condolences to the Saxon Family in their time of grief.
Contact the management team