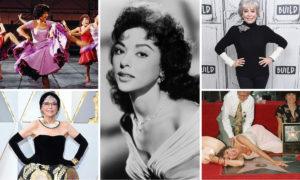 By Geoffrey Huchel
Rosa Dolores Alverio, AKA Rita Moreno is an actress, singer, dancer, and pop culture icon. She is one of few artists to have the title EGOT. For those unfamiliar with the term an EGOT is an acronym for artists who have won the Emmy, Grammy, Oscar and Tony Award. If anyone deserves to have such a distinguished term attached to their name it's Ms. Moreno.
Moreno was born on December 11, 1931, in Puerto Rico but ultimately moved to Long Island, New York in her teenage years with her mother. After arriving in New York, Moreno began dance lessons and landed her first Broadway role as Angelina in Sky Lift. Moreno's other Broadway credits include Last of the Red Hot Lovers, Gantry, The Ritz, The Odd Couple and The Glass Menagerie.
Moreno's film career began toward the end of the Golden Age of Hollywood. She acted steadily throughout the 1950s, in small roles in the films THE TOAST OF NEW ORLEANS (1950), the musical classic SINGIN' IN THE RAIN (1952) and THE KING AND I (1956). Toward the late 1950s into the 1960s Moreno made appearances on television series such as THE RED SKELTON HOUR (1951), FATHER KNOWS BEST (1954), TALES OF WELLS FARGO (1957), THE MILLIONAIRE (1955), THE MAGICAL WORLD OF DISNEY (1954), ZORRO (1957) and ADVENTURES IN PARADISE (1959). This brings us to the role Moreno is most well-known for. The role Moreno was born to play. Yes, I'm talking about Anita- in the ground-breaking classic and Oscar winning musical WEST SIDE STORY (1961). WEST SIDE STORY won a whopping 10 Oscars, including Best Picture, Best Director, Best Actor in a Supporting Role and Best Actress in a Supporting Role, which went to Moreno. Moreno starred opposite Natalie Wood, Richard Bremer, George Chakiris and Russ Tamblyn. Moreno delivered an amazing performance and she could have won the Oscar just for her iconic musical number "America" all by itself. Off the heels of WEST SIDE STORY, Moreno followed with the films SUMMER AND SMOKE (1961), SAMAR (1962), CARNAL KNOWLEDGE (1971), with Jack Nicholson, Candice Bergen and Ann-Margret, the television series BURKE'S LAW (1963), THE TRIALS OF BRIEN (1965), and RUN FOR YOUR LIFE (1965).
Throughout the 1970s, 80s and 90s Moreno made appearances in several television series and TV movies including THE ELECTRIC COMPANY (1971), THE ROCKFORD FILES (1974), EVITA PERON (1981), TRAPPER JOHN, M.D. (1979), THE LOVE BOAT (1977), THE GOLDEN GIRLS (1985), MIAMI VICE (1984), SESAME STREET (1969), HEARTS AFIRE (1992), THE NANNY (1993), THE LARRY SANDERS SHOW (1992), THE MAGIC SCHOOL BUS (1994), MURPHY BROWN (1988), and TOUCHED BY AND ANGEL (1994). Moreno was cast in the Emmy nominated HBO prison drama series OZ (1997), appearing in 55 episodes. In the last 20 years Moreno has appeared in STRONG MEDICINE (2000), THE GUARDIAN (2001), SCOOBY-DOO AND THE MONSTER OF MEXICO (2003), LAW & ORDER: SPECIAL VICTIM'S UNIT (1999), GEORGE LOPEZ (2002), UGLY BETTY (2006), LAW & ORDER: CRIMINAL INTENT (2001), HAPPILY DIVORCED (2011), GREY'S ANATOMY (2005), GRACE AND FRANKIE (2015), JANE THE VIRGIN (2014), the Netflix series ONE DAY AT A TIME (2017), and BLESS THIS MESS (2019). Moreno signed on to appear in Steven Spielberg's upcoming WEST SIDE STORY remake, which was set for a 2020 release. Moreno will play Valentina, with Ansel Elgort and Rachel Zegler as Tony and Maria and Ariana DeBrose as Anita
Besides her Oscar, Moreno won a Golden Globe, also for WEST SIDE STORY, a Grammy for Best Album for Children (THE ELECTRIC COMPANY), an Emmy for her guest appearance on THE ROCKFORD FILES, a Latin Grammy Lifetime Achievement Award, a star on the Hollywood Walk of Fame, a National Medal of Arts from President Barack Obama and many others.
Essential Moreno:
SINGIN' IN THE RAIN (1952)
THE KING AND I (1956)
WEST SIDE STORY (1961)
CARNAL KNOWLEDGE (1971)
Contact the Feature Writers