[AdSense-A]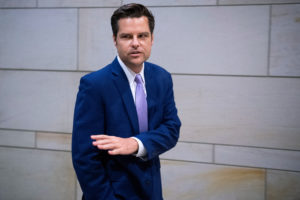 By Nikki Slusher
In the last week, more scandals and court cases have come rolling in like clockwork. Between misappropriating taxpayer dollars, senseless use of the Justice Department for personal vendettas, and flippant adjudications to enhance the President's political gain it almost seems as if the federal government is unrecognizable from the one we knew only a few years ago. What we have seen is a complete transformation in the paradigm our former President's and their administrations followed for over two centuries. Now we are seeing other officials close to the President replicating his behaviors which leaves us wondering, "is this the new precedent being established through this era of American politics?"
Let me first start with the Florida man who misused taxpayer dollars for his own personal TV studio. Florida Rep. Matt Gaetz is under fire with the House Ethics Committee for several spending practices he has engaged in during his four years in office. Some of the accusations Gaetz is facing involves tens of thousands of taxpayer dollars he has spent on a privately installed television studio in his father's house that he uses for his regular television appearances, including the rental for the camera equipment and the company that constructed the studio which Gaetz refuses to identify. Some of the checks Gaetz wrote were cashed by a limited liability company connected to speechwriter and disgraced former Trump aide, Darren Beattie, who was ousted after he spoke at a convention known to promote racist and white supremacist views. House ethic's rules specifically prohibit using funds for private speechwriters and personal gifts over $50, which the television studio potentially falls under. Although he claims these expenditures were previously approved by the House Ethics Committee, no documentation has been provided to support these claims
Meanwhile, as another close ally to the President is under fire for financial misconduct another is being released from prison. No, I am not talking about Roger Stone. The President's former attorney, Michael Cohen, is being released from prison again. We were first introduced to Mr. Cohen during the Stormy Daniels debacle; eventually, he was arrested and convicted on several charges including tax evasion, lying to a financial institution, and making an excessive campaign contribution at the request of a candidate (President Trump) where he used campaign funds to pay Daniels to keep quiet about her alleged affair with the President. Initially, Cohen was released due to the it is on behalf of a federal judge who cited Cohen's First Amendment rights were violated, and he must be released by Friday at 2 p.m. As of this writing, he has been released and is back on home supervision.
In his ruling, Hellerstein stated that "finding that the purpose of transferring Mr. Cohen from furlough and home confinement to jail is retaliatory. And it's retaliatory for his desire to exercise his First Amendment rights to publish the book." The provision of Cohen's release included a section which severely restricted his ability to communicate publicly. Per AP News, the judge also claimed "I've never seen such a clause in 21 years of being a judge and sentencing people and looking at terms of supervised release. Why would the Bureau of Prisons ask for something like this … unless there was a retaliatory purpose?"
Cohen is currently suing federal prison officials and Attorney General William Barr citing that he was incarcerated after being released to home confinement due to a book he is writing and set to publish within the next few months. The book, titled "Disloyal: The True Story of Michael Cohen, Former Personal Attorney to President Donald J. Trump," is yet another story of one of the President's former trusted allies revealing their experiences. Prosecutors argued that prison officials were unaware of the book, yet Judge Hellerstein asked "How can I take any other inference than that it's retaliatory?"
The Department of Justice, which oversees the BOP, is no stranger to this kind of scrutiny. Since Attorney General Barr's arrival in early 2019 we have witnessed interference on behalf of the department deemed as a "deeply damaged rule of law." In early February over 2,000 former and current DOJ employees called for Barr to resign for actively undermining the department's independence from political influences. The petition seems to have been heard by deaf ears, however, as the DOJ has continued to act in an unprecedented matter. There has been the firing of head prosecutors in three of the most influential districts which were investigating President Trump and his cohorts' dealings, influencing Roger Stone's and Michael Cohen's sentences, and seeking to dismiss the proven case against Michael Flynn. The suit Cohen has brought to light, however, reveals an eerie trend from this administration and its loyal allies.
Although Michael Cohen is not someone any of us have much sympathy for, this type of behavior by the U.S. Bureau of Prisons (BOP) and Probation Office is alarming. One consistent effort that has proceeded to occur over Trump's term and Barr's rule over the DOJ is attacking the right of speech we receive under the First Amendment. Not only is the Cohen case a prominent example of this, we have seen an onslaught of law suits on behalf of the President and his inner circle which push for limitations on the press and people for what they are allowed to say. This summer alone the President sued to prevent the publishing of both John Bolton and Mary Trump's books which detail their personal experiences with Trump. Another frivolous suit Trump filed against a small Wisconsin TV station for airing an ad by a Democratic PAC that quotes Trump's assertions of the coronavirus as a "hoax" when he had referred to it, along with multiple attempts by Democratic lawmakers to check and balance his administration, as a hoax. The entirety of the complaint, along with the plethora of other suits Trump has filed that are almost identical to this, is premised on attacking the opinions of authors who are expressing their opinions based off widely reported facts. The connecting clause? All expressed negative viewpoints of the President's performance or disagreed with him.
Meanwhile, Barr is presently drafting an anti-trust complaint against Google to demand censorship over claims that the search engine, along with other social media platforms, for what they claim as "politically biased algorithms" that are presenting one viewpoint while censoring conservatives. This initially began over Twitter's fact-checking on tweets with misinformation and Facebook's removal of Trump's campaign ads for promoting hate and false information. Rep. Devin Nunes (R-CA), a long-time Trump advocate, has also been publicly entangled in multiple court battles against CNN, Twitter, and even three personal Twitter accounts with two being a cow and Nunes' "alt-mom." Following the President's tactics, Nunes' lawsuits are due to what he claims are libel and slanderous types of statements under defamatory law. Most of the cited tweets in the Nunes suits are opinionated statements based off facts that are available to the public.
Outside the courtroom, Trump has utilized law enforcement officers and the military to silence demonstrators exercising their First Amendment right to peaceful protest. While Donald Trump has utilized his private social media accounts demanding his right to freedom of speech, he has concurrently declared a war against the people and his critics as they sought, in the words of the First Amendment itself, "to assemble, and to petition the Government for a redress of grievances." In June, we witnessed the use of teargassing and other 'less-lethal' forces while the nation's major cities were surged with the public's outcry on the deaths of George Floyd, Breonna Taylor, and countless other headline cases on excessive force used by police. This month Trump has continued to attempt to prohibit free speech by sending federal officers to Democratic cities, such as Portland and Chicago. Maintaining law and order is important, and this article is not to demean our law enforcement officials, but the fact that our courts and officers are being weaponized for political performance gain is deeply concerning.
What these actions are doing is clear – eroding the rights given to us in the opening portion of our country's legal framework. The complete disregard for these foundational American ideals found in our fundamental law, the Constitution, should send chills down every individuals spine who claims they are a patriot to this country. Furthermore, the actions of Rep. Matt Gaetz and his response show another trend this presidency has implemented from the first day – claiming one is being attacked, not because of their wrongdoings, then claiming evidentiary support without revealing documentation.
The Trump Administration has set a new precedent in American politics. It seems as if the President has shown that once you hold a position of power then you can silence your critics, use funds however you please, claim everything is a lie and misrepresentation, never hand over to officials or publicly release supporting documents and you'll get away with anything. Even one of the social media platforms Trump is suing, Twitter, has been weaponized for daily rants against those who simply do not agree with or have a liking for the President. It is one thing to sue for slander, it is another to use defamatory laws to silence a population of Americans simply because they disagree with our leaders.
No previous president has challenged the principles of the First Amendment as significantly as Donald Trump. His behavior has consecutively occurred posing a clear and present danger to the freedom of press and speech. For readers who support the President and agree with his actions, I ask you to look from the other side. If Donald Trump can engage in this manner, when a Democratic president eventually is elected and acts the same way won't you be enraged? That is why this is such an imperative discussion. Are Americans willing to allow every future official to act in similar atrocities that go against our ideals and morals? Only time will tell if this dangerous precedent will be enabled to continue or if we will fight to restore the rule of law and preserve our constitutional rights. The choice can only be made by us. The question that remains is what Americans will decide.
Contact the Feature Writers