[AdSense-A]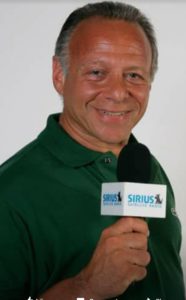 By Randy "The Commish" Gordon
Floyd Mayweather, JR. has won championships in four weight classes. In a 21-year career, he went undefeated in 50 fights. He is wealthier than any person who has ever passed through this sport. In fact, on Forbes' list of wealthiest athletes of all time, only a handful—such as Magic Johnson. Michael Jordan, Tiger Woods and Michael Schumacher—are worth more.
Fans buy Mayweather, JR.'s hats and shirts, the ones which have just three letters on them: TBE. The letters stand for "The Best of his Era."
Okay, I can hear you yelling…
"TBE," you're screaming at me, stands for "The Best Ever."
I understand where you are coming from. I really do.
You're under 40. You're merely repeating what you've heard from Mayweather, JR. over and over and over. You simply don't know any better.
Recently, "The Best of his Era" put out a list of the top five fighters of all time. It was his list. The five fighters on the list were his choices. Most boxing fans who look at the list, will shrug their shoulders and move on.
Naturally, Mayweather, JR. put himself in the #1 slot. Of course, if you agree with Mayweather, JR.'s definition of TBE, you'll agree with his top five list.
But, what was the reason for the list? He was not doing it for a boxing magazine or a boxing website. This was not his choice of a list of the "Top-100 Fighters of All Time" (on which he most definitely would be included). He is not scheduled to be fighting at any time in the near future (although he has informally said "I have something big lined up in Tokyo, which I'll be telling y'all about soon").
So, Mayweather, JR. put out the list, which we'll examine in a moment. As we mentioned, it wasn't the Top-100 fighters. It wasn't the Top-50. Nor was it even the Top-10. It was the Top-5.
Before we look at the list, let's look at the meaning of a few words:
One is Narcissist.
This is a person who is in constant need of admiration. It is an inability to handle criticism. It is a sense of entitlement.
Another word is Ego-maniac.
It's a term to describe a preoccupation with one's ego, identity and self.
While the two words—Narcissist and Ego-Maniac—could easily be used to describe the current politician who resides in the mansion at 1600 Pennsylvania Avenue in Washington, D.C.—they are used here to describe Floyd "Money" Mayweather, JR.
He is a retired fighter, and a popular retired fighter. Even now, in retirement, he has 7.8 million followers on Twitter (not close to Justin Bieber's 112 million followers, but by standards for boxers– active or not—7.8M is highly-impressive). In comparison, the always-popular Mike Tyson has 5.5M Twitter followers; Anthony Joshua (3M); Tyson Fury (1.6M); Deontay Wilder (692K); Terence Crawford (182K); Errol Spence, JR. (162K); Teofimo Lopez (30.4K) and Vergil Ortiz (17.8K). In other sports, the NBA Lakers' LeBron James has 46.8M followers; golf's Tiger Woods is at 6.5M; and the N.Y. Yankee's Aaron Judge has 395K.
All of the above are active athletes, even Mike Tyson. Now that he's coming back, you can expect his 5.5M Twitter followers to increase significantly up until his comeback exhibition against Roy Jones, JR. (183K) on September 12.
Floyd Mayweather, JR. loves the attention. He loved it when he was fighting and he loves it just as much now, three years removed from his last bout, a ninth-round stoppage of Conor McGregor on August 26, 2017.
In craving the attention (which he'll get when he is most-likely inducted into the IBHOF's Class of 2021) and without a fight card coming up which his Mayweather Promotions is involved in, without a comeback fight to announce and without a fighter he is looking to promote, Mayweather, JR. has put out his list of the Top 5 Fighters of All Time. The World According to Floyd.
Of course, Mayweather, JR. has himself as #1…Numero Uno…Number One. TBE, according to him. His followers, as you have seen believe his every word. So, with him at the top, who are his four other picks?
Number Two is Pernell Whitaker. The former Olympic Lightweight Champion went on to win professional titles as a Lightweight, Super Lightweight, Welterweight and Super Welterweight. In 45 fights, he was victorious 40 times. He lost four times and fought to one draw. One of the losses (to Jose Luis Ramirez), along with the draw (against Julio Cesar Chavez, SR.), were two of the biggest robberies boxing has ever seen. Despite being winless in his last four fights, Whitaker was an all-time great, especially in the defensive category. Perhaps only Mayweather, JR.'s defense rivaled the defensive skills of Whitaker. But to put Whitaker at number two all-time, is just as ridiculous as Mayweather, JR. putting himself first.
At Number Three, Mayweather, JR. has Roberto Duran. This is a no-brainer, as well as Mayweather, JR.'s best pick. The inclusion of four-division champion Duran in Mayweather, JR.'s top five gives credibility to the list, as Duran certainly belongs, at least as much as the other four.
In the Number Four slot is Larry Holmes. By making Holmes the first heavyweight on his All-Time list, Mayweather, JR. omitted another man who called himself "The Greatest"—Muhammad Ali. Unlike Mayweather, JR., Ali just may have been. Mayweather, JR.'s inclusion of Holmes, who beat a faded Ali in Ali's next-to-last fight, was a slap in the face of Ali and the greatest he so rightfully deserves.
At Number Five Mayweather, JR. has Aaron "The Hawk" Pryor. Pryor is indeed another all-time great, but he doesn't belong in the top five, despite the fact he lost only once in 40 professional fights.
Funny, but three of the four names Mayweather, JR. has listed under himself on the list were in the same weight category at some point in their career.
Whitaker was a Lightweight, Super Lightweight and Welterweight. It's not a stretch to imagine Whitaker outboxing Mayweather, JR. in any other those weight classes.
As for Roberto Duran, does anybody think the lightweight "Manos de Piedra" would have lost to a lightweight Mayweather, JR.? Or a 140-pound Duran? Or the welterweight Duran who beat Sugar Ray Leonard in June 1980?
As for Aaron Pryor, he moved to 140 pounds only because he could not get a meaningful fight at 135. While you can argue the outcome of this dream match all day, it's highly doubtful Mayweather, JR. could beat Pryor at either 135 or 140 pounds.
Glaringly missing from the list, aside from Muhammad Ali, was Sugar Ray Robinson, Henry Armstrong, Sugar Ray Leonard, Benny Leonard and Julio Cesar Chavez, SR., (all of who whom most likely would tear Mayweather, JR. to pieces.
In all honesty—and fairness—Floyd Mayweather, JR.—who caught guys too late in their career (Oscar De la Hoya) or too early (Canelo Alvarez), put together quite a career. He certainly isn't shy about telling you that.
His 50-0 record, his incredible defensive skills and four divisional titles does indeed put him amongst the Top Fighters of All Time.
Not, however, at number one.
He was the TBE. Only, not the TBE as he continually tries to sell it to a gullible public.
Contact the Feature Writers