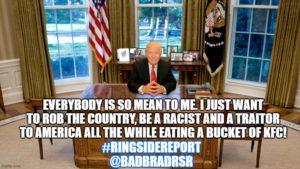 By Jo-Ann "Jo D NL" Duke
The diary scribblings of T4: Temper Tantrum Toddler Trump
Dear Diary,
It's me, Donny again. Why is everyone so mean to me? Everyday, people are so just strange. They get mad at me all the time. They call me names like stupid, incompetent, evil, nasty. Why? I don't understand, it's like they think I am supposed to do things, like I am in charge or something? Why would they think that? I just don't get it, do you?
Just like people got mad when I tweeted about the pizza, they thought that I should have been talking about that man who just died, you know the one, who came to my rally, he didn't wear a mask, and we removed the seat signs, so people could sit together; oh boy we had such fun that day; but everyone thinks I don't care about my supporters; well, I really don't but that's our secret, promise, pinky swear, okay?
And now that man who everyone loves, he's taking attention away from me, and what I want, by having people come see him before his funeral, and today, can you believe it, everyone is watching his funeral instead of me. How could anyone want to do that when I am so much better, I am the best, better than all the rest at everything.
Why I don't know what people would do without me, to show them how to do things. Just like that test you know, you know nobody else could do as good as me, I really aced it. I am the smartest, bestest, the only one who knows how things are supposed to be, well, hee hee, that's not really true, I have to do what my friend tells me to do, but only you know that, my only real friend.
I trust you, because you will never tell anyone what I tell, I know I can count on you.
Well, I've got to go now, I have to go pretend to be a big boy, and play in that room with the nice big desk, where I get to pretend to know what I am doing.
Well, talk to you later. I hope no one else is mean to me again. Love you.
Your best friend,
Donny
Contact the Feature Writers