[AdSense-A]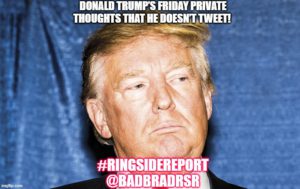 By Jo-Ann "Jo D NL" Duke
The diary scribblings of T4: Temper Tantrum Toddler Trump
Dear Diary,
It's me, Donny again. Why don't people like me? I am a good boy, at least that's what my friend tells me; he is so nice, when he tells me how to do things. He knows that I don't understand what I'm doing here in this big building. It's so scary, but he makes me feel safe.
Whenever I feel bad, I call him, and he makes me feel better. He tells me what to do to make people like me more, I'm confused, cause it's not working yet. I asked him why and he told me that it will just take more time; he keeps telling me that it will be okay if I just do what he tells me to do.
I am so lucky to have such a good friend; but a lot of those strange people who keep bugging me, and outside my room here don't like him; they always say mean things about him. I don't listen though, he's my friend, he won't lie to me. They say that he wants to use me, but that's so crazy. He only wants to help me, he tells me how much he loves us, and he is so funny, like his story about soldiers. Some of the nasty people keep telling me he's been mean to us, especially our forces. What do they mean? He knows everything, he really does; and he is helping me become even more the bestest, just like I am, hee hee. He likes me, and I like him back more.
Well, the nasty people are here; and they are mad with me again. I wish they would just go away, and leave me alone. They keep saying don't do this, don't do that, Donny. All I hear is that I am wrong, that I keep doing bad things. Oh, oh. I have to hide you away.
I can't let them find you. They will try and get rid of you, again. Well, bye for now. Love you lots.
Your best friend,
Donny
Contact the Feature Writers