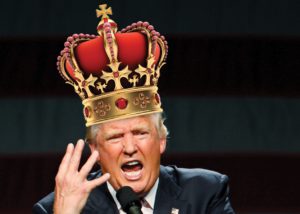 By Ron Signore
I don't ever remember being this flustered in the past when it comes to the President of the United States. I was far too young for George H.W. Bush but was really of the right age and engagement level for W's presidency. During W's time in office, I had some serious disagreements with policy and actions by him and his administration, however, I almost never had the concern he did not have the interest of America at heart. "Almost never," refers to the deployment of troops to Iraq. All the events from a military perspective were that of a quagmire to me, but I always felt W was out to not only get those who attacked us on 9/11, but also finish what his father started with Saddam Hussein. I never felt like he tried to deceive the citizens he was trying to serve.
I had to take some time to think about how to express that notion. Is it how I really felt about W or is this jerk weed in office now so bad, he makes W look like a saint? We can agree to disagree with the ideological differences and disagreement on policies, but we did not have a con man from 2000-2008. Some could argue positives in America even coming closer together after that Tuesday morning in September 2001. One could also argue that racial and prejudicial hatred migrated a little bit from African American to those resembling middle eastern dissent.
Now I wake up everyday and wonder what shenanigans are going to happen stemming from Agent Orange. I am at the point where I cannot even be in states of disbelief anymore. Everything he does shows there is no bottom for how low he will go in his efforts to destroy this country. This is not like George W Bush where there is a bi-partisan disagreement in ideologies. This is not the normal pro/anti-hot button issues we are used to. This is the failure of having someone in office who does not understand the main articles of the documents that structure and form our freedoms. His whole cabinet has a problem with understanding and abiding the Declaration of Independence, the Constitution and the laws that bind them to our country. Ignorance to the law is not bliss. In this case, ignorance is costing the lives of over 140K Americans, impacting millions out of work, impacting the health of millions, and decaying our race relations to a point we were at as a country in the Civil Rights Era.
There are times the argument is not that of ignorance. Though daily the stupidity and idiocy are clearly broadcasted, he clearly is driven by his ego. With his ego controlling his actions, and words, we clearly see the failures of the Moscow Agent Governing America to understand his role and the consequences to our country as a result. The lack of accountability we have allowed as a country has driven Cheeto Man to operate as if he is the King of the country. He speaks and acts as if he has some sort of divine power. He allows his dementia ridden mind to ignore the obstacles our country is facing and deflect blame on fabricated incidents by groups who fight against his fascist way of rule. He deems anyone who is not involved as a member of the GOP or in support of the Republican Party as "Radical Left." He continues to villainize those of us who look to progress and improve our country as members of the "DemocRAT Party."
We have seen too many instances of the lack of accountability being carried through for our elected president. Rulings on handing over his tax returns have come down, yet he has still failed to do so. The corruption within his whole cabinet and administration, most notably with William Barr allowing the blocking of Trump handing in his returns and firing anyone who seems to be investigating the Trump family from a criminal perspective. Another notable being Betsy DeVos with how she handles the execution of funds and policies around public education. Not to mention the appointments of clearly incompetent Trump loyalists and family members to positions that they have no business being.
Today's shenanigans irritated me beyond belief. Selfishly because it impacted me financially. I have been getting into the stock market. I am not very far in my learning, frankly, learning lessons positively and negatively on the fly. Being of the working class, every penny counts. When numb nuts tweeted out his ramblings on how this election will be the biggest fraud in election history with mail in voting and suggesting delaying the election, the impact to the market started off in the negative with a nice dip. Don't mess with my money, that is messing with my emotions. But in all seriousness, the ripple effect to that tweet altered the focus of many things throughout the day. It impacted congress where Moscow Mitch McConnell had to state that the election date is set in stone.
There are many reactions nation wide on that tweet. I worry the big picture was overlooked. I would venture to guess that tweet came shortly after the news of Herman Cain passing was presented to Cheeto Man. Cain, who attended the "Emptysburg Address" Trump rally in Oklahoma, had come down with COVID-19 and passed as a result of complications from the virus.
The virus is a key factor and variable for our country and economy in so many ways right now. We all know the mishandling of the pandemic from the start from this administration. We all know the results of those who have died, contracted the virus or who have lost their jobs due to this COVID era. Furthermore, the race for a vaccine is on. This race impacts our stock market daily as we hear more of phases and trial announcements as we inch closer to an actual vaccine. The vaccine topic is also somewhat tied to the election. Agent Orange is hoping for a fast vaccine development so that he can use the positive impact as a campaign plus. Delaying the election allows more time for completion of a vaccine. Tweeting the wish to delay the election is nothing more than a distraction to avoid the topic of Cain contracting and dying from COVID at a Trump event.
Cheeto Man has continued to operate off his ego's knee jerk reaction to events. The emotions that keep driving his arrogant perception to the people of this country should be far more bothersome to people. The topic came up in an interview with Dave Portnoy of Barstool Sports that there are times he maybe does resent sending a tweet, correlating it to in the old days, one used to write a letter and sleep on it before sending, and sometimes that proved to be the right reaction, not the emotional one. The constant public battles with our own country and foreign leaders are concerning to me. How far will he let his ego push him? He has already acknowledged he may not accept the results of the election results. The volatile nature of this man is a reckless endangerment to our country and the world. Not the guy I want with the ability to push the button if we become on the brink of war. If he loses in November, I have no idea what to expect. I ponder two very different scenarios after the confirmation of a loss and "accepting" the loss. Scenario one being that he goes complete lame duck, and essentially just tucks his Chester Cheeto tail between his legs and pouts until his last day in office. That would be the better scenario for me right now. Scenario 2 is far more fear oriented. It is a scenario where he tries to get away with as much as he possibly can, further damaging our country.
Of course, there is the true and tragic nightmare that continues with him being re-elected. Do we have to accept those results as a country?
Contact the Feature Writers