[AdSense-A]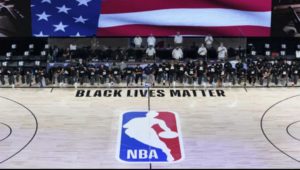 By Larry Daniels
Yesterday citizens from around the world paid their final respects to statesman and civil rights icon, Rep. John Lewis. Presidents Clinton, Bush, and Obama are present to deliver eulogies in his honor at the Ebenezer Baptist Church in Atlanta, Georgia. Dr. Martin Luther King was a pastor here. John's achievements include being the first of the Freedom Riders, the youngest speaker at the March on Washington, leader of the March from Selma to Montgomery, member of Congress for 33 years, and instrumental in getting the Voting Rights Act signed into law by President Lyndon Johnson. This is a tweet from John Lewis in 2018 – "Do not get lost in a sea of despair. Be hopeful, be optimistic. Our struggle is not the struggle of a day, a week, a month, or a year, it is the struggle of a lifetime. Never, ever be afraid to make some noise and get in good trouble, necessary trouble."
These words are representative of an American statesman that shows leadership to the world; an America evolving into something better for future generations. The current administration went in a different direction by refusing to send condolences to the Lewis' family. President Trump did not bother to show up. The lack of presidential respect is historic and appalling. Personally, I think a loving tribute to a man beloved by so many would have been ruined by a Trump photo-op.
Good Trouble. We have a long way to go. Civil rights for folks of color still have a mountain in front of them. They are sick and tired of being sick and tired. An emotional day for all who loved what Rep. Lewis stood for, the evening hours brought the restart of games in the NBA after the season suspension due to Covid-19. A perfect way to keep John's message flowing naturally and with depth! The players in the league did not miss a beat and it was phenomenal!
Later that evening at 9pm – EST – Orlando, Florida
The Los Angeles Clippers are playing the Los Angeles Lakers on the opening day of the restart of the NBA. The arena is quite dark except for the court itself. The announcer introduces the National Anthem to be piped in featuring the Compton Kidz Club. The kids did a magnificent, soulful job with the anthem. They would have torn the roof off of any arena in the country.
Silence. No fans. Pandemic.
The folks watching at home got a special treat. The camera focuses on LeBron James. He is wearing a black shirt with, "Black Lives Matter" on the front in bold white letters. All the team members, staff, and coaches are kneeling, locked arm in arm. The look on LeBron's face gave you the impression that he and his brothers were serious, united, and unbreakable. The beautiful rendition of the anthem would have made me scream, smile, or cry. That was not going to happen this day.
What did it for me was the jerseys; Players were given the option of choosing from 29 messages, including "Black Lives Matter"; "I Can't Breathe"; "Justice"; "Peace"; "Equality"; Say Her Name"; "Anti-racist"; "Group Economics" and "I Am a Man" – the slogan famously used during the 1968 Memphis sanitation workers' strike. A call for justice and a chance for the players in the NBA to communicate their support to Black Lives Matter.
Yesterday on the day of John Lewis' funeral, the NBA made "Good Trouble".
Contact the Feature Writers