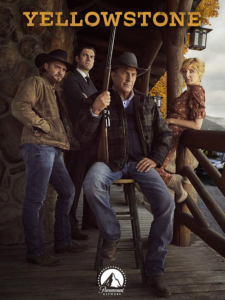 By Geoffrey Huchel
I remember seeing the drama series YELLOWSTONE advertised on television and on social media, but at the time it never occurred to me just how popular the series is. I started watching after the suggestion of my friends, Matt and Stacy, who have become regular viewers and fans of the show. Now, I am trying to catch up as YELLOWSTONE is already well into its third season. And, after watching almost two full seasons I know what I've been missing out on- a wildly entertaining cowboy series with complex but interesting characters and compelling storylines, that is brilliantly acted, well-written, and filmed along the backdrop of the majestic mountain landscapes of Montana.
YELLOWSTONE premiered on June 20, 2018 on the Paramount network. The series follows the Dutton family, led by John Dutton, who controls the largest contiguous ranch in the United States. The ranch is under constant attack by those it borders- land developers, an Indian reservation and United State's first national park. John Dutton and his adult children, Kayce, Beth and Jamie are in constant battle to protect their land, while trying to maintain their personal lives and relationships.
The YELLOWSTONE cast includes:
Oscar winner Kevin Costner as John Dutton. John is the sixth-generation patriarch of the Dutton family, who controls the Yellowstone Dutton Ranch. Josh Lucas plays younger John Dutton in a recurring role.
Luke Grimes as Kayce Dutton. Kayce is a former US Navy Seal and youngest son to John and Evelyn.
Kelly Reilly as Beth Dutton. Beth, a financier and daughter of John and Evelyn, is well-educated and highly intelligent but is emotionally unstable and suffers from substance abuse.
Wes Bentley as Jamie Dutton. Jamie is an attorney, aspiring politician and one of John and Evelyn's sons. Jamie is loyal to his father but is frustrated at the current status of his family. He also has a love/hate relationship with his sister.
Cole Hauser as Rip Wheeler. Rip is the ranch foreman and John's right-hand man and enforcer. Rip was taken in by John, and John considers him one of his sons. He has an on-again, off-again relationship with Beth.
Kelsie Asbille as Monica Long Dutton. Monica is Kayce's Native American wife. She is a teacher and eventually becomes a professor.
Brecken Merrill as Tate Dutton. Tate is the son of Kayce and Monica.
Jefferson White as Jimmy Hurdstrom. Jimmy is a ranch hand at Yellowstone.
Danny Houston as Dan Jenkins. Dan is a billionaire land developer who has aspirations to take Yellowstone from John Dutton.
Gil Birmingham as Chief Thomas Rainwater. Thomas Rainwater is the chief of the nearby Native American reservation. He seeks to take the land from the Dutton family.
Wendy Moniz as Lynelle Perry. Lynelle is the governor of Montana, ally to the Dutton family and love interest of John. Fun fact on Moniz: The actress and I hail from the same city, Fall River, Massachusetts, and attended the same high school.
Gretchen Mohl as Evelyn Dutton. Evelyn is the late wife of John Dutton and mother to Lee, Jamie, Beth and Kayce.
Dave Annable as Lee Dutton. Lee is John's oldest son and head of security at Yellowstone.
Neal McDonough as Malcolm Beck. Malcolm is a businessman who becomes a nemesis of John Dutton.
If you haven't discovered YELLOWSTONE yet, I have just one question: What are you waiting for?
YELLOWSTONE airs on Sundays at 9 PM on Paramount Network. You can also catch it on the streaming service.
Contact the Feature Writers