[AdSense-A]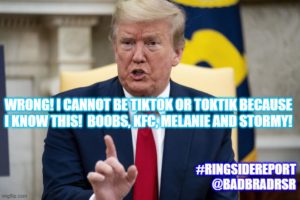 By Jo-Ann "Jo D NL" Duke
The diary scribblings of T4: Temper Tantrum Toddler Trump
Dear Diary,
Hey, it's me, Donny again. I can't wait for when I can have all the people who like at my rallies again. I hate those mean nasty kids on TikTok, they fooled everything up last time, and made me look so foolish.
That guy Brad, that's his name, I think told me that over a million people were going to come to my rally, and that we had to set up another stage, because there was no way that everyone could see me in the hall. I was so excited, imagine, all those people coming to see me. See, they do love me, whee.
I was so confused, when we got to that place, Tulsi, or something like that. There was no one there, okay, maybe a few people, but all the people who had asked for tickets, they never came to see me, and I was so good, I made everyone happy that night. I even showed them how I was so good at things. They were laughing and cheering, all because of me.
Well, the ones that showed up. They fooled me once, but I am too smart for them to do that again. That's right, right? I am going to hold more rallies, people don't care about that Covid stuff if they get to see me.
Like what I said when I was talking to that funny guy, Chris Wally or something like that, I am the smartest, the bestest, no one can be as good as me. They won't fool me again, cause I fixed stuff after that, I got a new guy to help get people to come see me, and he said that he won't let them trick us again. He said something about email addresses, so they can know if those bad kids try to do this again.
It's not like they can use another one, right? I mean, they're not smart like me, to have more than one address to order tickets. Hee hee, just watch them try, they will look so foolish. They're only kids, they can't make a plan to do it again. Well, buddy, I got to go back to that boring office again. They are going to make me pay attention to all that information, like it really matters, because I just do whatever I want, lol.
Bye, love you, your bestest friend.
Donny
Contact the Feature Writers