Joe Smith, JR. Primed and Ready For Eleider Alvarez
[AdSense-A]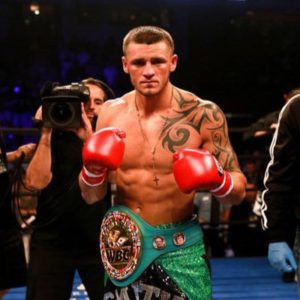 Exclusive Interview by Marc "Kid Huevos" Livitz
On Saturday, August 22, boxing will continue with its undercover approach and strategy to combat COVID-19 with a night of fights at "The Bubble" inside the MGM Grand in Las Vegas. As the evening's card continues to materialize, its scheduled main event is certain to be an exciting one. Currently, the WBO world light heavyweight title is vacant after Canelo Alvarez's one-time visit to the division ended with an eleventh round stoppage win over Sergey Kovalev last November.
The Mexican superstar has since left the 175 pound weight class, which means several fighters will most likely have their sights set on the coveted championship title. Such a candidate is Joe Smith, Jr., of Long Island, New York, who himself is no stranger to the in's and out's of the ring and taking part as a co-headliner of a major event.
"The Beast" may have first come to prominence with casual fans of the sport when he showed the legendary Bernard Hopkins the door to retirement by way of an eighth round knockout victory which sent the longtime middleweight champion through the ropes and onto the floor. The December 2016 triumph for the construction worker member of the Laborers Local 66 Union really put him on the map and alongside this signature win are names such as Andrzej Fonfara and most recently, Jesse Hart this past January.
In a few weeks' time, Smith, Jr., 25-3, 20 KO's, will tangle with one-time light heavyweight champion Eleider Alvarez as the Long Islander looks to get one step closer to a world title, as its tagline, "It's On!" effectively indicates. (ESPN+, 10PM ET/7PM PT). On Monday afternoon, Joe was kind enough to take a few minutes out of his day as his training camp winds down to discuss the upcoming bout.
ML: Hi, Joe and thanks for talking with me today. How's camp coming along and was it affected much by the current shutdown?
I've been pretty good. As far as my time in the gym goes, it's usually just me and my trainer, so that part hasn't changed. I've had some good sparring, especially with two good partners for the whole camp. It was great work and I got in a lot of rounds, just not with a variety of people.
ML: One of the interesting things in your bio is your time as a union worker. Have you been doing much of that leading up to the bout?
No, I haven't been with the Union for a while. But I still pay dues and help keep the books in order. I know that I can always go back. Since then, I've opened a tree business with my dad and we do jobs like tree trimming and removals.
ML: You're one of eight siblings. How did boxing come into your life?
I moved in with my father at 13. He brought me to the gym to give me something to do and keep me out of trouble. Right away, I was pretty good at it and within 2 weeks, I was sparring with guys who were open class fighters at the time. I had my first fight within a few months and I stopped the kid.
ML: You have a bout coming up on August 22 against Eleider Alvarez in Las Vegas. Have you had to make very many adjustments in training as you prepare?
Not really. I'm always in shape and ready for whoever. I've basically been working on conditioning, staying in shape and always improving on my boxing skills. I'm confident, I feel good and I'm looking forward to it. I've picked up a few things about him here and there. I'll just have to get in there and see what works.
ML: One of the things that's so different about these bouts conducted inside "The Bubble" is that there are no fans and much less noise. Do you expect anything to look or feel strange because of this?
No, I don't think so because I'm so used to sparring with just a few people and you always have to remind yourself that you're in a fight. If you can't feed off the crowd, then that's fine because you can't forget that you're in there to win. I'm looking towards a world championship soon.
ML: Well, Joe, thanks again for your time. Do you have anything you'd like the boxing public to hear as we lead up to the bout?
I hope everyone watches the fight and I plan on putting on a great show for everyone. I'm coming for that WBO light heavyweight championship.
[si-contact-form form='2′]