[AdSense-A]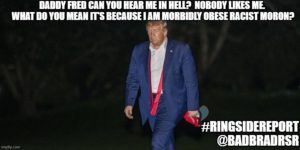 By Jo-Ann "Jo D NL" Duke
The diary scribblings of T4: Temper Tantrum Toddler Trump
Dear Diary,
It's me, Donny, again. I am still so mad at that guy, cause they made a big thing out of me saying about people dying, you know what I said, that it is what it is! Yes, I said it, but it's true. What do they expect me to do, it's not my fault that they are dying, right? What can I do, it's not like I can wave a magic wand and make it all better. Anyway, if they won't vote for me, I don't see why I have to care, do you?
They don't like me, so why do I have to do anything for them? If they don't, they can't be smart, not if they can't see how great I am. After all, I am the smartest and the bestest. Those mean people at those sites, you know, Lincoln something and Meidas, hah, they can't even spell their name right, everyone knows it's spelled Midas. They keep making those nasty ads about me, and telling people how bad I am; they keep saying that I only care about myself, that I only think about me too, but why not, I am the most important person ever.
Anyway, that's not true, I sometimes like other people, well, if they can do something that's good for me, or makes me feel good; or if they can make people like me and want to be around me. You know when something bad happens, it's not my fault, and everyone should know that. I don't know why they think that, it's like they really think I am supposed to be in charge or something.
That's what all the boring people in that big office are for, they have to do everything and make me look good, it's not like that is hard, because we all know that I am just that good, so they don't have to do much. I just wish that they would leave me alone and let me spend time with my friends, Kim and Vladi. They really like me, you know, and they are always so nice to me; especially when they tell me ways to make things better. They are so helpful, because they have been doing this longer than I have, so they are used to dealing with all the boring stuff.
Bye, my bestie. Love you.
Donny (the big boss, hee hee)
Contact the Feature Writers