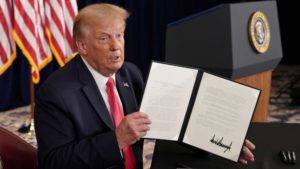 By Kimberly "KG" Farrell
President Trump issued a series of executive orders over the weekend, one of which defers the collection of payroll taxes from September 1 to December 31,2020 for workers making less than $2,000 per week, or $104,000 per year. Taxes that normally are paid to Social Security and Disability. This will lead to an increase in pay earned from an employer.
How much of an increase, you ask? If you make $15 an hour and you work full time, your pay will increase roughly $45 a week; $180 per month. Multiply that by the number of affected months in 2020 (September through December) that will come out to about $830 in total. An amount which may or may not need to be repaid in 2021, that aspect has not yet been decided.
While some of this additional income will act to stimulate the economy, the apparent motive of the order, many people will be more inclined to put that money in savings as a cushion in the event they lose their income due to the pandemic. What does make it into the economy will come slowly and will not be as much of a stimulant as perhaps the president intended. Many Americans (and the law makers they elect) would much rather see a larger stimulus package.
Another line of the executive order expands unemployment benefits by $400 a week, but only if each state individually enters into a contract with the federal government, agreeing to pay 25% of the expansion. For states whose budgets have been decimated by the significant loss of state income taxes during the lockdown, this is not easily done. For those states that are completely unable to provide that 25% (in other words, the hardest hit states) their workers will not get any additional monies from the feds.
The president's order does direct the Secretary of the Treasury to explore avenues, to eliminate the obligation to pay back the taxes but in no way compels them to do so. Congress would have to find a way to eliminate the tax debt while cutting something else from the budget to keep it in balance. An alternative would be a bill requiring employers to pay the debt either themselves directly or by withholding larger sums of money from future employee paychecks. Nothing prevents employers from continuing to withhold these taxes in anticipation of that repayment.
As unsettling as this is, Trump's promise to "terminate the tax " if he's re-elected is even worse. Doing so would effectively cripple Social Security and put our seniors and disabled friends and neighbors in jeopardy.
What many ordinary people do not know is that Social Security has a trust fund. (Yes, just like our President) Two separate trust funds actually, the Old-Age and Survivors Insurance (OASI) Trust Fund pays retirement and survivors benefits, and the Disability Insurance (DI) Trust Fund pays disability benefits.
The reserve (or extra) money in the Social Security trust fund was $2.9 trillion dollars at the end of 2019. This "extra" money earns interest by investing in government bonds. That interest currently makes up about 8% of payments made to recipients. With nothing being paid into those programs for the remainder of the year, the excess would be depleted requiring that 8% to be paid out of the base of the fund in the future. Not only does that decrease the fund itself, but also the interest the fund earns. This could lead to a significant reduction in payments to people who are already finding it difficult to live off their current retirement or disability payments. Knowing that most American's could not last longer than 30 days without income (as we have seen during the COVID-19 crisis), the idea that it will inspire people to save more for their own retirement is a bit of a farce. Not to mention the 1 in 5 Americans who are disabled and live solely on that paltry income (with zero ability to save) would be left with nothing if Medicare is cut as the president suggests he is willing to do. This could lead to a host of problems, including future economic hardship on people who are caring for their elderly parents, while trying to raise families of their own.
Farrell is the author of two suspense novels: 411 Apple Tower Rd a frightening tale about a child predator who chooses the wrong victim and Messanie Hill based on a true story of a house that has more than memories lurking within its walls. You can purchase copies of both books HERE.
Contact the Feature Writers