Joe Biden's VP Choice… Kamala Harris
[AdSense-A]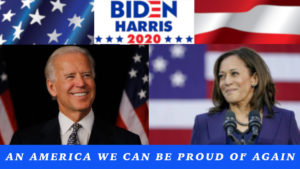 By Janet Grace
The day finally came… After all of the vetting and sweating, the next Vice President will be Kamala Harris, if we're successful in securing an honest win. You'll be delighted to know, she comes from a line of highly educated professional movers and shakers. Her Mom, of Hindi descent, is a doctor, her Dad, of Jamaican descent, is a professor. It is said she considers herself to be an African American woman of color. If elected, she will be the first woman in America's history to be Vice President.
She's a Scorpio. That means her manner of governing is one of observation, stealth. She stings quickly, quietly, deadly. They may see her coming, but by that time, they've already been stung. Solely, death awaits.
Welcome, Kamala. We've been waiting for you. We are aiming you, locked and loaded, at Trump and the GOP. We know you're going to make America, Beautiful, again.
Thus far, Joe Biden has delivered. He kept his word and gave America the fiercest Vice President and first woman to become such.
America welcomes you, Kamala. Let's go kick some Domestic Terrorist Neo-Nazi, Russian Compromised, Fascist Butt.
TO ARMS!
[si-contact-form form='2′]