[AdSense-A]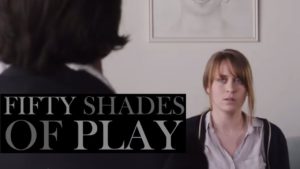 By Janet Grace
"Lets talk about Sex, Baby,
Let's talk about you and me".
(Salt n Pepa © 1990)
Attention: Movie Spoilers Here
After the suggestion was made by a friend, years of resisting faded away. I sat down the other day and watched the trilogy movies: "50 Shades of Grey, Darker and Freed". I was stunned at first because I'd met someone like Mr. Grey almost 40 years ago. Unlike Miss Steele, I ducked for cover, and as one of my favorite TV characters said: "not today, Death" was what I thought about the whole affair. "Exit stage right, left even" 1.
I'd never read the books. The topic as told to me was not of interest; however, the psychological thriller it turned out to be, finishing with a "rom-com" softness towards the last movie, left me teary-eyed, satisfied, knowing they all lived happily ever after.
At first, it reminded me of a grown up "Cinderella" story, but it actually was a triple smooth remake of "Beauty and The Beast".
We can certainly admit that the inexperienced, brilliant character of Miss. Steele's demeanor mimicked the character from Gabrielle-Suzanne Barbot de Villeneuve's story, Beauty and the Beast, (published in 1740 in La Jeune Américaine et les contes marins. Translated: The Young American and Marine Tales). Both female characters were known for their gentle, unassuming humility, brilliance, kindness and compassion. They were both able to melt the frosty exteriors their Beastly co-characters shared. By seeing the best in them and making room for their peculiar idiosyncrasies, they brought out their characters' inner beauty. They all fell deeply in love with their mates through a shared trust so bonding, so blinding, you could only wish to sample a taste of what that might feel like.
A friend who I was discussing the psychological take I'd squeezed out of the film's nuances, shared with me that in the bondage world, called "BDSM", it is the "bottom" that actually is the dominant. They hold the safe word. They say what goes, how much, when to refrain and when to cease. Who knew? Not I, but I'm always curious to learn more. It's all about communication, mutual respect and love. Love is love and it's just a conversation.
Yvonne K. Fullbright, Ph.D. a sexual health expert says intimacy between partners raises our immune system and keeps us healthier than not. 2.
Attached are articles you might enjoy detailing the benefits and perks of enjoying private time with your favorite person (s) no judgement.
For those curious enough to want to test the waters further, there are "sexual doulas", who will work with healing any emotional, physical blockages or traumas one might have. It might seem like another happy ending ruse, but these Reiki Healers are serious about their work. To quote the author, Rachel:
"Tantric massage focuses on stimulating the nerves located in one's sex organs to create new pathways of sensation to the brain. "In a tantric session, many things can happen," says Rachel. "Usually it's about removing any blocks in the person's body to open the way for more sexual energy to flow through. It frees people up to be more self-expressive in the world, more in the zone of genius, more alive and turned on, and happier."" 3.
Another practice to look into for those with a curious nature is Tantric Sex and Meditation.
In the article by Rose Surnow, she explains the following:
"The idea behind tantric sex in the Hindu spiritual tradition is that when sex is practiced with awareness and connection, it is a way to achieve enlightenment. Tantric sex is focused on very slow intercourse with an emphasis on synchronized breathing, touching, eye contact, and intimacy with your partner. Unlike regular sex, orgasm is not the goal, but rather prolonging it and feeling deep connection. 4.
So, to me, that last one feels like another interpretation of a "joint run or workout" but that is from someone who hasn't gazed into any eyes for longer than two minutes that wasn't a beloved pet, for awhile now, so take that with a grain of salt. For others" a slow, peaceful, breathing exercise that leaves you satiated, calm, relaxed tastes like a walk on the beach. You tube has wonderful meditations you could begin with.
With all that is happening in the world at this present time, don't forget to break away and turn to your mates for a conversation having to do with nothing at all, but gazing into each other's windows, hearts and souls.
"Kinky fuckery"? It's what's for dinner. 5.
1. Snagglepuss A Hanna Barbera Cartoon character created in 1959.
2. ps://www.webmd.com/sex-relationships/guide/sex-and-health
3. https://www.thecut.com/2016/12/sex-therapy-and-what-you-can-learn-from-a-tantric-masseuse.html
4. https://www.cosmopolitan.com/sexopedia/a8100798/how-to-have-tantric-sex/
5. "Kinky Fuckery" A phrase coined by the Character, "Anastasia Steele" in the movie, book: "50 Shades Darker" written by. E.L.James © 2012. All Rights Reserved.
[si-contact-form form='2′]