[AdSense-A]
By Linda Jones
Buckle up ladies and gentlemen, this election season just became an even bumpier ride. Marjorie Taylor Greene, a Republican who has previously made claims like Muslims do not belong in Congress, has won the primary in Georgia's heavily conservative 14th Congressional District for a chance to take a seat in the U.S. House of Representatives. Greene received 57 percent of the vote on Tuesday, therefore, single-handedly defeating her opponent neurosurgeon John Cowan, who had described himself as, "All of the conservative, none of the embarrassment." Evidently, the people in this district enjoy being represented by shameless QAnon conspiracy theorists like Marjorie Taylor Greene.
Who exactly is Marjorie Taylor Greene? Besides publicly sharing her anti-Muslim sentiments, the Georgia Republican is a construction executive at a company that is owned by her and her husband. She was also able to self-fund her campaign through their income. Greene is most well-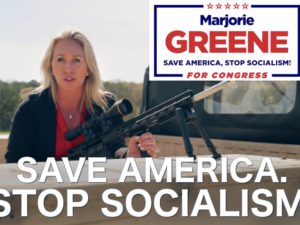 known for her ad where she brandished a large rifle on the back of a pick-up while threatening antifa protestors. Facebook has since removed the ad, stating that it violated its policies against inciting violence.
While most people are not thrilled by this outcome, President Donald Trump was quick to hop on Twitter Wednesday morning to congratulate the GOP candidate on her win. "Congratulations to future Republican Star Marjorie Taylor Greene on a big Congressional primary win in Georgia against a very tough and smart opponent. Marjorie is strong on everything and never gives up – a real WINNER!" It should be no surprise that Donald Trump is a fond supporter for Greene's campaign. "The fake news media hates me. Big Tech censors me," Greene commented in a video she shared on Twitter. She added: "The DC Swamp fears me. And George Soros and the Democrats are trying to take me down." Personally, I am not aware that George Soros even knows who she is, let alone most Democrats. She isn't exactly a household name and only recently caught the public's eye due to her negative connotations perpetuated through her QAnon beliefs.
The President's praise for Greene's win was originally not shared by many high-ranking Republicans in the House of Representatives. In fact, most had distanced themselves from her after Politico released videos highlighting the Georgian's bigotry on Muslim Americans. Politico had spotlighted Greene's videos, where she called the election of two Muslim women to Congress "an Islamic invasion into our government." If you do not know who she is referring to it is the 2018 election of Rep. Rashida Tlaib (D-MI.) and Rep. Ilhan Omar (D-MN.), the first Muslim women to ever be elected to Congress in U.S. history.
House Minority Leader Kevin McCarthy commented on the videos as "disgusting" and "appalling." It's important to note here that if Kevin McCarthy calls you "disgusting" and "appalling" then you must be one disturbed individual as he doesn't have issues with much of what his fellow GOP members and the President have done over the last four years. Additionally, other Washington Republicans echoed McCarthy's sentiments and House GOP leaders endorsed Greene's primary opponent, neurosurgeon John Cowan, who along the campaign trail called her "a circus act" and "crazy." Technically he is not wrong. However, in typical GOP fashion, after Greene's win on Tuesday, McCarthy said she would be welcomed into the Republican conference and that they "look forward" to Greene and "all of our Republican candidates across the country" winning on Election Day this November.
Marjorie Taylor Greene's victory speech also gives constituents insight into what a class act she is. "I just want to say to Nancy Pelosi, she's a hypocrite, she's anti-American and we're going to kick that bitch out of Congress." Marjorie, honey, Nancy has no idea who you are, and it is evident she already lives in your head rent free as well. Besides her history of making racist comments, Greene is also known for pontificating unsupported conspiracy theories. Repeatedly, she has spouted her strong support in the QAnon conspiracy theory. The SparkNotes version of QAnon is basically conspiracy claims that the world is run by a Satanic cabal of elite's intent on bringing down the Trump presidency. It also alleges, among other bizarre claims, that former special counsel Robert Mueller was appointed to investigate the Clintons, Barack Obama, and other top Democrats who strongly oppose President Trump; and even insists that the "deep state" tried to shoot down Air Force One before Trump's summit in North Korea last year. Yeah, it is definitely not because he is an incompetent, racist, bigoted bonehead it's cause Satan and the Democrats just do not like him.
QAnon followers also have expressed great belief that there will be a "Great Awakening" before a "storm" where Trump will conquer elites, globalists, and the deep state. This idea stems from Trump's reference in 2017 to "the calm before the storm." If you are confused, do not worry. No one knows what the fuck he was referring to and are patiently awaiting to see what this "Great Awakening" is going to bring.
In YouTube videos Greene posted back in 2017, she commented that "Q is a patriot," adding that the conspiracy theory is "something worth listening to and paying attention to." Continuing her praise, she stated that Q "is someone that very much loves his country, and he's on the same page as us, and he is very pro-Trump. There's a once-in-a-lifetime opportunity to take this global cabal of Satan-worshipping pedophiles out, and I think we have the president to do it." She must have missed the memo on notorious pedophile and human sex trafficker, Jeffrey Epstein, was a long-time friend to Donald Trump. In 2018 she also promoted a 9/11 conspiracy theory that had been trafficked around on fringe forums saying, "It's odd, there's never any evidence shown for a plane in the Pentagon." Most Americans are well aware that American Airlines Flight 77 crashed into the Pentagon on September 11, 2001, killing 125 people inside the building and all 59 passengers aboard the plane. After the liberal watchdog group, Media Matters, brought these claims to light Greene responded on Thursday, conceding that the conspiracy theory is "not correct" in a series of tweets where initially she claimed falsely that three, rather than four, planes were hijacked by Al-Qaeda terrorists on 9/11.
Greene has also been photographed posing with well-known former Ku Klux Klan leader, Chester Doles, who expressed support for her candidacy and her belief in QAnon conspiracy theories. "Our friend Marjorie Greene is running for Congress. She's part of the Q movement. Good friend to have," the former Klansman wrote on a social media post back in March of this year. Yeah…she sounds like a great friend to have, Chester. I totally want to hang around people associated with this kind of racism and fuckery.
If Greene is elected, it is unsure what she will bring to Congress. She will most certainly be the first politician to publicly express belief in the QAnon conspiracy to serve in the U.S. House of Representatives, which is also projected to maintain its Democratic majority. To put it simply, Marjorie Taylor Greene is nothing more than a racist, anti-Semitic, Islamophobic, Confederate flag bearing, QAnon conspiracy theorist with the same intellectual ability as a fetus. She is a voice for the one-third that hide behind white hoods and MAGA caps, but claim they are brave Americans fighting for the cause.
Although she is an easy election away from becoming U.S. Rep. Marjorie Taylor Greene, R-QAnon, do not expect to see much productivity out of her term as the self-boasted "worst nightmare" of progressives and liberal Democrats. I give it maybe two years until she is caught for fraud or some other stunt straight out of the Trump playbook. Congratulations, Georgia, on your next congresswoman. You must be so proud.