Former Congressional Candidate DeAnna Lorraine's Disgusting Tweet About George Floyd's Family!
[AdSense-A]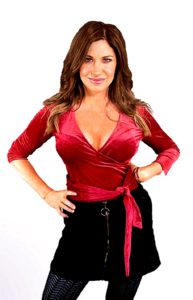 By Ashley Joanisse
In a since deleted tweet, Former Congressional Candidate (who failed after a run against Nancy Pelosi) DeAnna Lorraine shocked many with a disturbing tweet in response to George Floyd's family being invited to speak at the Democratic Convention on Monday, August 17th.
Members of George Floyd's family lead a moment of silence virtually at Monday's Democratic National Convention. Philonise and Rodney, brothers of George Floyd, took the time to honor their brother by highlighting his giving spirit and the sacrifices he made for his family, friends and even complete strangers. Philonise Floyd called for everyone to carry on the fight for justice in the following statement, "Breonna Taylor should be alive today. Ahmaud Arbery should be alive today.
Eric Garner should be alive today. Stephon Clark or Atatiana Jefferson, Sandra Bland, they should all be alive today. So, it is up to us to carry on the fight for justice. Our actions will be their legacies." He then asked for listeners to join him in a moment of silence to honor the memory of his brother, "Please join me in a moment of silence to honor George and the many other souls we lost to hate and injustice, and when this moment ends, let's make sure we never stop saying their names."
This moment was a cry for justice against police brutality and systematic racism and the Former Congressional Candidate took to Twitter to shame both Floyd's family and the democrats for their choice to invite them to attend, the since deleted tweet, posted at 8:25 pm on August 17th 2020, had the following statement, "Why is George Floyd's family speaking at #DemConvention? Did they offer them free meth?"
There are honestly no words to describe how immoral and deplorable this tweet is. Philonise and Rodney are mourning the death of their brother and calling for justice and DeAnna essentially spits on that call for change. The tweet is not only highly prejudice, but it also promotes systematic racism. The United States has a long history of racial segregation and has historically excluded African Americans from government spaces. Her tweet questions why the Floyd family was invited to speak, suggesting that an event organized to advocate for governmental change and movement in the country is no place for African Americans seeking justice.
The tweet is utterly disgusting, and it is disturbing that this tweet came from someone who formally ran for a position in congress. DeAnna you may have deleted your tweet but screenshots last forever, and I truly hope that this tweet is the end of your failed career in politics.
#JusticeforFloyd
[si-contact-form form='2′]