[AdSense-A]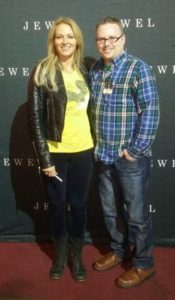 By Geoffrey Huchel
April 17, 2016 will always be a highlight in my life. It was warm and sunny in Boston, Massachusetts and I was there for one reason: to meet Grammy nominated singer/songwriter Jewel. I've been a fan since she got her start in the mid-1990s when her debut album Pieces of You was released in February of 1995. Sure, she's easy on the eyes; but her voice, her meaningful songs and her compassion for others are also what attracts me to her. Twenty-one years, 3 Grammy nominations, 12 studio albums and 35 singles later, I was finally going to meet Jewel. I've seen her in concert 6 times prior but never had the opportunity for a Meet and Greet, so this show was a bigger deal than past ones.
I navigated my way from the parking garage through the busy and crowded streets of Boston to my destination-The Wilbur Theatre. Upon my arrival I waited with anticipation in the VIP line. After what seemed like hours it was finally time to go inside. We were given swag bags of Jewel merch, which included a t-shirt and a signed CD, and she was treating us to a special pre-show performance.
While we waited for her to come on stage there was a short Q&A and trivia session. Then it happened. Jewel, wearing a black leather jacket and sunglasses walked on stage to thunderous applause and cheers. She greeted us, sat and talked a bit and then she did what she always does-asked us to shout out requests. After about two dozen requests coming from both sides of the theatre she chose to perform "Violet Eyes", a song that she dedicated to a friend who died from cancer. Jewel's powerful and emotion-filled voice, paired with the tender strumming of her guitar, made for a special and unforgettable moment. Seeing Jewel perform live is an amazing experience. She connects with her audience and when she sings, it is like she's singing to you and only you. Once "Violet Eyes" was over she left the stage, and that's when we all lined up for out Meet and Greet moments.
Considering how many of us were there the line moved rather quickly. It was my turn. I walked up to Jewel and handed her the one item I could give her to sign, my Jewel: The Essential Live Songbook DVD. She took my DVD and asked my name. I answered and before I could tell her, she asked me, "Is it with a J or a G?" We shared a laugh. It meant a lot to me knowing she cared enough to ask. We exchanged niceties then I went on my way. The remainder of the night was amazing. Jewel took requests and sang all her hits including "Who Will Save Your Soul", "You Were Meat for Me", Foolish Games", "Hands", "Standing Still", and "Intuition", among others. She performed songs that weren't on albums, but her die-hard fans knew them anyway. Jewel didn't just sing songs. She told stories. She told jokes. She talked about her son. She talked to her audience. She was being a normal person, and that's something her fans admire about her. The night ended with an encore performance, and in typical Jewel fashion, she did her famous yodeling song. To me, Jewel is underrated, and underappreciated as an artist. She's one of the most versatile and successful singer/songwriters of her generation. She continues to make music and tour and is preparing for her next studio album. She also adds producer, philanthropist, entrepreneur, social activist and actress to her already long list of accomplishments.
Jewel Discography:
Pieces of You (1995)
Spirit (1998)
Joy: A Holiday Collection (1999)
This Way (2001)
0304 (2003)
Goodbye Alice in Wonderland (2006)
Perfectly Clear (2008)
Lullaby (2009)
Sweet and Wild (2010)
The Merry Goes Round (2011)
Let it Snow: A Holiday Collection (2013)
Greatest Hits (2013)
Picking Up the Pieces (2015)