[AdSense-A]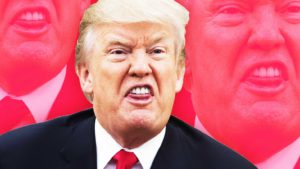 By Jo-Ann "Jo D NL" Duke
The diary scribblings of T4: Temper Tantrum Toddler Trump
Dear Diary,
Hey buddy, it's me again, I ran away from that old boring office for a little while so I could talk to you. I am so tired of them always talking at me, like I really care what they are saying. Well, unless it's about me, you know that's the only really important thing, right? Well, anyway, another of my little rallies again today in NJ. Not as good as being in NY, but close, I guess. Anyway, I spoke to the people who came to see me before I left on the big plane, and I talked about all the good I am doing for Lebanon. That should make people like me even better than before, because it looks like I care.
I am taking the money and giving it to them after that big boom happened, it's sad that people got hurt, but it gives me a chance to look good to the people who are mad over the Covid stuff. See, I can show them I care, well, at least make it look that way. I need those people to vote for me in November. Honestly, they can't see that I am the best president ever, so I have to do stuff like this, to make them want me to stay president. After that stupid interview with Jonny, all I ever hear is people saying it is what it is. Yeah, I said it, it's true, what do they expect me to do? Seriously, sometimes I wonder what I was thinking when I decided to run for being president, it's nowhere near fun like I thought it would be.
Even when I do good things like the money for the people who got exploded, even then a lot of the people still aren't happy with me, because they say I'm not doing enough. What do they expect, I have to be able to go and golf, and do things like that. It makes me feel better when the people at the airports cheer for me. They actually like me, and I just have to say what they want to hear, and then they are happy. They'll vote for me, because they like what I say, and they don't complain about it.
Oh, well, got to get back there, before they find me, so I will talk to you later.
Bye, love your friend.
Donny
Contact the Feature Writers