"Randy's Ringside" On Ringside Report: Donald Trump Continues to Fail Our Country & A Look At Boxing!
[AdSense-A]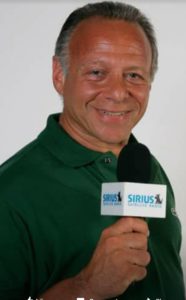 By Randy "The Commish" Gordon
To be sure, 2020 is well on its way to becoming a year we will all remember—for all the wrong reasons. When we kissed and hugged our loved ones at the stroke of midnight on December 31, 2019, we had no idea of the medical, financial, social and political mess which was rushing at us the way a tsunami comes almost out of nowhere, then engulfs, pulverizes and destroys everything in its path.
The year 2020 became 1918, 1929 and 1968 all over again.
The United States was struck by a virus which, as of August 20, has killed more than 171,000 Americans and infected almost 5.5 million.
It was like the return of the Spanish Flu on 1918.
The Great Depression all but returned.
Unemployment soared to record levels.
Racial strife and unrest, unseen by anything like it in over a half century, erupted throughout the country.
There were national protests and civil unrest across America.
The stock market crashed.
Restaurants closed.
Schools closed.
The International Boxing Hall of Fame cancelled it's 2020 Induction Weekend.
So did every other Sports Hall of Fame
Camps closed.
Gyms closed.
Businesses closed. Many closed for good.
Child and spousal abuse rose.
So did the divorce rate.
Suicides rose.
Shootings rose.
So did burglaries and home invasions.
Desperate people do desperate things.
Bankruptcy attorneys became busier than they ever have been.
Our elected leader failed to lead. From the beginning, as the virus was ravaging the states of Washington, New York and New Jersey, he said, "I'm not concerned at all" and "This will go away the way it came." Recently, when asked about the still-rising cases of the virus and of the staggering number of deaths from it, he said, "It is what it is!"
The United States, the all-powerful, wealthy nation, built on hundreds of years of hard work and a quest for greatness by a land filled with immigrants, became broken and locked down. Visitors couldn't come in and we couldn't leave.
As the virus spread across the country, the country we have known to be as diverse and unique as any country on Earth, the country we have come to know—and love—as the UNITED States, was no longer united. It was every state for themself. All the while, our leader failed to lead. If anything, he became a leader of discourse and unrest…of lies and deceit…of turning his elected position into a show much bigger than the highly-rated reality series he starred in for close to 15 seasons: "The Apprentice." That was a reality show which made us wonder which young businessman/woman would be next to hear the words, "You're Fired!"
Our leader-who-cannot-lead loves going on television. He revels in giving us updates on everything from the economy, immigrants, the virus, environmental issues and his newest hiring's and firings. His speeches have given rise to newly-created positions called "Fact Checkers" at media outlets.
See, he has been responsible for creating jobs!
We couldn't even take refuge in sports, which, for many of us, is our daily Disneyland of life, our Fantasyland, our Magic Kingdom. That's because sports, like almost every other aspect of our lives, came to an abrupt end.
By the start of Summer, however, boxing came back with a Summer Series on ESPN, conceived and promoted by Top Rank. Then, so did baseball. And golf. And basketball. All returned with medical restrictions. You probably never used the term "Medical Protocol" before. But in 2020, there are many terms you and I never used or heard before: COVID-19. Coronavirus. Social Distancing. Pandemic. Droplet Transmission. Asymptomatic. Self-isolation. Personal Protection Equipment (PPE). N95 Masks.
Ah, 2020. The year we'll never forget, but wish we could.
But, 2020 is not over. There are still four full months to go. So, let's make Chicken Salad out of chicken droppings. Being positive doesn't have to mean the result of a COVID-19 test. Let's turn the remainder of a horrific year into something upbeat, enjoyable and fun. Let's make lemonade out of the lemon of a year we've been dealt.
With a little over four months remaining in 2020, the boxing schedule looks promising. ESPN, ESPN+, FOX, FS1, DAZN and Showtime all will be busy with boxing programming. So will Telemundo, Impact, Facebook Live and YouTube.
Of them all, and of the terrific lineup of fights they are each promising, here are the five I am most excited about:
Number 5 on my list is the long anticipated heavyweight battle between perennial contenders Dillian Whyte and Alexander Povetkin. This bout has been on and off for the last year. They were finally supposed to meet this past Spring, but the COVID-19 pandemic kept it from happening. In the most recent bout for each man, neither looked spectacular, neither looked overwhelming.
In his previous bout, on the undercard to Anthony Joshua v Andy Ruiz II last December 7, an uninspired Povetkin labored to a split 12-round draw against Michael Hunter. Also on that undercard, Whyte faced former contender Mariusz Wach, who weighed 270 pounds. Whyte was one pound heavier. Both looked as if they hit the refrigerator more than they hit the heavy bags. Whyte, with the promise of a title fight looming, was only slightly-more enthused than Wach, and won a unanimous 10-round decision.
The Whyte-Povetkin clash will take place this weekend as a part of Matchroom Boxing's Fight Camp from the DAZN mansion in Essex, England.
Number 4 on my "Must See" list will also be taking place this weekend. The bout will be a light heavyweight matchup between former IBA/WBO Light Heavyweight Champion Elider Alvarez and longtime contender Joe Smith, JR.
In this one, it's the consummate boxer (Alvarez) against the two-fisted slugger (Smith). It's Alvarez' 25-1, 13 KO's record against Smith's 20 knockouts in a 25-3 record. Last time out, back in January, Smith won a decision against Jesse Hart in Atlantic City. The verdict was split for Smith, but one of the judges blew the call badly. It was a strong, impressive performance for Smith. In Alvarez' last outing, also in January, he stopped previously-once-beaten Michael Seals in the seventh round.
This one has all the ingredients to make it one of the top fights of the year. It just might be exactly that.
Number three on my list is the September 26 Jermell Charlo-Jeison Rosario fight. Jermell's only loss was a disputed 12-round decision to Tony Harrison in December, 2018. It was a loss Charlo avenged with an 11th round TKO one year later. His opponent, Jeison Rosario, 20-1-1, 14 KO's, seemingly came out of nowhere last January 18, traveling from his home in Santo Domingo to face the dangerous, hard-hitting, once-beaten Julian "J-Rock" Williams, in Williams' backyard of Philadelphia. Eight months earlier, Rosario outpointed unified 154-pound champion Jarrett Hurd, to win all three of his belts. Just like Smith v Alvarez, Charlo v Rosario could well be a "Fight of the Year" candidate.
Number 2 on my "Must See" list will also take place on the September 26 card I just wrote about. This one matches the slightly bigger Charlo twin, Jermall (30-0, 22 KO's) against Sergey Derevyanchenko. The Ukraine-born Derevyanchenko, who resides in Brooklyn, is just 13-2 with 10 knockouts. However, his two losses—decisions against Danny Jacobs and GGG—along with a long amateur career, have him ready to face Charlo, the WBC Middleweight Champ. This one is yet another prospective "Fight of the Year" candidate.
Now, here's the fight I have waited for throughout 2020. It's a Dream Fight. It's a classic matchup which may be talked about about for decades, regardless of who wins. It's Vasily Lomachenko (14-1, 10 KO's) Vs Teofimo Lopez (15-0, 12 KO's). The fight, which will take place in "The Bubble" at the MGM Grand on October 17, will be televised by ESPN. This one is the big, hard-hitting 23-year-old Lopez against the 32-year-old Matrix, already a three-division champ after just 15 fights. Although this will be the first fight of the year for both men, the winner of this will most likely win 2020's "Fighter of the Year" award.
Oh, there's one more big fight. It's a Super Heavyweight matchup on Tuesday, November 3. It'll match two aging fighters in a fight for the ages. No, it's not Mike Tyson against Roy Jones, JR. It'll be Donald Trump against Joe Biden.
We'll cover that one when the time comes!
Randy "The Commish" Gordon is the Author of the hit book, "Glove Affair". Order your copy by clicking HERE.
[si-contact-form form='2′]