[AdSense-A]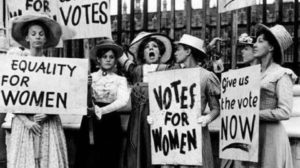 By Marlena Ryan
One of the few women you may have learned about in elementary or even high school from American history was Susan B. Anthony. Susan B. Anthony was an abolitionist, a women's rights champion and one of the main leaders in the women's suffrage movement. She, together with abolitionists Elizabeth Cady Stanton, started the American Equal Rights Association in 1866, and later the National Woman Suffrage Association in an effort to get a constitutional amendment giving women the right to vote. In 1872, Susan B. Anthony along with fourteen other women were arrested for voting illegally in Rochester, New York. But it was Ms Anthony who was tried the following year and fined $100 which she refused to pay.
Susan B. Anthony died fourteen years before the ratification of the 19th Amendment. But, there were many women who played a part in the ratification of this amendment, including women of color. I would like to highlight several of these women who marched and used their voices to help white women and eventually all women get the right to vote.
Ida B. Wells was an activists who fought for the rights of women and the black community. A school teacher and a part-time journalists in Tennessee, she wrote articles about lynching. When Ms. Wells received death threats for her work, she moved to Chicago, Illinois where she went on to start the first suffrage club organized by black women. In 1913, she refused to march in the back of the women's suffrage parade and chose to march with her state's representatives instead. She said this in 1913, "I am not taking this stand because I personally wish for recognition. I am doing it for the future benefit of my whole race."
Mary Church Terrell, who was from an affluent black family, was an educator in Ohio and later in Washington, DC. She became an activist after her friend, Thomas Moss, was lynched by a group of white people for simply having a business that competed with theirs. Ms. Terrell believed that the right to vote was essential for black women who were at a disadvantage due to their race and their gender. She befriended Susan B. Anthony and was given the opportunity to speak at the National Suffrage Association meetings, giving her perspective as a black woman. Yet, she found reluctance within the movement to include black women. And in 1913, she like Ida B. Wells, refused to be segregated during the women's suffrage parade and instead marched with the sisters of the Delta Sigma Theta sorority, which was founded at Howard University.
Frances Harper was an abolitionist, suffragist, and one of the first black women to be published in the United States, publishing her first book of poetry at 20 years old. She said this during the National Women's Rights Convention in 1866, "I do not believe that giving the woman the ballot is immediately going to cure all the ills of life. I do not believe that white women are dew-drops just exhaled from the skies. I think that like men they may be divided into three classes, the good, the bad, and the indifferent. The good would vote according to their convictions and principles; the bad, as dictated by prejudice or malice; and the indifferent will vote on the strongest side of the question, with the winning party." In 1869, Ms. Harper condemned Susan B. Anthony and Elizabeth Cady Stanton for their opposition against black people being given the right vote. And while she herself was never able to vote, she still worked with the women's suffrage movement, and included herself in conversations that she hoped would lead to universal freedom for all Americans.
Mabel Ping-Hua Lee, was a suffragist who was also the first Chinese woman to get a PhD in economics. She was a member of the Women's Political Equality League and helped lead a suffrage parade in New York City at the age of 16. Even though the 19th Amendment did not give Chinese immigrants the right to vote, this did not stop her from fighting for women's voting rights. She along with other Chinese women hoped that by working with white suffragists, the way Chinese people were viewed and treated would eventually lead to policy changes for Chinese immigrants.
August 18, 2020 marked the 100th year anniversary of the passage of the 19th Amendment which granted women the right to vote. But the 19th Amendment only secured this right for white women. Afterward, many white suffragists abandoned the women of color who had labored so intensely beside them to see the passage of this amendment. It was up to women of color to continue to fight for voting equality until voting rights were passed such as the Indian Citizenship Act of 1924, the Magnuson Act of 1943, giving Chinese immigrants the right to vote, and the Voting Rights Act of 1965 which prohibited racial discrimination in voting. To honor this important anniversary, Donald Trump has decided to pardon Susan B. Anthony for her crime committed in 1872. But Trump could do better than this. He could truly honor the work of all the women who labored to bring change to women's rights and voting rights by making sure that each woman, each person has their voting right's protected and that every American is able to safely vote in this year's election.
Contact the Feature Writers