[AdSense-A]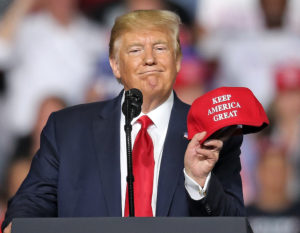 By Donald "Braveheart" Stewart
Last week I got scared.
It's not an unusual phenomenon as spiders and moths will manage to do it to me though my own mortality seems to be a topic that does not elicit fear.
What scared me was a Friday night British documentary made by an investigative journalist who went over to the USA and spoke to women who support Trump. To be fair it was really only two women upon whom she focused as they seemed to dominate proceedings.
The first was a woman straight out of the 1950's. She lived in a house packed with sweet memories and emblems of her home making abilities; even from here in Scotland you could smell apple pie…
Her support for Trump was unyielding. It was quite simply terrifying. I sat in horror as she excused questions rather than answered any.
There was nothing that could penetrate her absolute belief that God had sent this ungodly creature to sit upon the throne of her country and rule like a Lord ought to. It is what a man ought to do.
She had friends, most of them like her at the grandma stage, who had similar views. She organized a straight pride event in a Farmer's barn because they were scared to have it in public. She invited an assortment of what she called "interesting" speakers who spoke of an attack currently underway on nice white folks. She even got a preacher who was black to come and say these things too.
When the venue was broadcast to her nation some "sodomites" got hold of where they were – they had helpfully live streamed the event – and when she announced that the enemy were "on their way" or "at the gates of the farm" they moved.
We never saw the people who were coming to protest against them and this woman and her followers ran off into the town to … protest against an abortion clinic. Not for the last time, irony was not lost on me…
Within a few minutes counter protesters, including her own estranged gay adopted son arrived to protest at their viewpoints and show that they were not afraid of any robust debate.
Now the abuse online that this woman had suffered at the hands of the so called radical left was simply wrong, but the opportunity to engage with people in a reasonable manner was never on offer. It had to be we shall talk to ourselves and make sense or shout at others because they are quite simply wrong. The worst was telling people that they had to get over slavery.
The second woman, a supporting role played by a Hollywood actress who asked to be filmed in private in a public park – the irony was not lost upon me – because her views are so unpopular they may harm her career, was not quite so terrifying.
That both were running from expressing their views publicly in a democracy is regrettable. The fact that their views have been the dominant force in public life for decades leaves them now in a position where they are beginning to experience what it was once like to have true democratic values and to be truly in favor of equality. People who had such views feared for their jobs if they spoke out. No matter what your opinion, such secrecy and such fear is wrong.
BUT…
What terrified me was that reason and the ability to have a debate with either of these people was shut down by an overwhelming superiority that they hold, cherish and demonstrate without feeling as that they "know", they have the facts and the rest of us are just plain dumb.
Please believe me when I say that you can't beat stupid.
And they have a vote.
And they ain't voting democrat…
I have said it before folks, if you don't vote, you cannot blame the electoral process for throwing such stupidity in your face because there is plenty of stupid out there waiting to show you how dumb people can be…
The television has been put back on again. Freddy Krueger suddenly feels benevolent in comparison.
Contact the Feature Writers