[AdSense-A]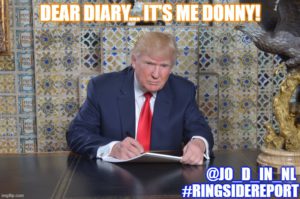 By Jo-Ann "Jo D NL" Duke
The diary scribblings of T4: Temper Tantrum Toddler Trump
Dear Diary,
Hey buddy, it's me, again. People are complaining cause a few kids they tested at the end of July for that bug, well, they had it, and they are saying that the schools should stay closed, and go to class online, with that virtual learning thing. That's not good, because I need the schools to open up, if they don't, then the parents won't be going back to work. That is so not right, and I said to some people if the kids don't go back, then the schools maybe won't get the money they normally do, haha, so there, they will have to open, if they want to pay the teachers for teaching the kids, and if any of the teachers don't want to teach, well, then they won't get paid, and we will save money, and people will be happy because we are showing them the right way to do things. I don't know what they would do without me.
I know this is the right thing, because K and V agreed with me, I won't write their names just in case anyone finds you, and that way, they won't know that my friends have been helping me over the past few years. They really do help me, you know. I am so lucky to have such good friends, they don't ask me to do anything for them, and they just always give me such good ideas, and they tell me to tell all the people that they are my ideas; and they know that the people will really like me once I make things good for them. See, I am doing a good job, and when they can go back to work, it will be great. Honestly, I don't know what they are going on about, anyone smart knows that the kids are immune to stuff like that, and since they are, it's not like their families are going to get sick or anything.
I am mad though, why don't people just let their kids go back to school, and if they don't, it's going to make me look bad, with me telling all the parents to send their kids back to school; I am the boss, so they should do what I say. I know people are calling me bad names because of that, like a hypocrite and other mean things, but they should have to live with her, and I don't know why.
Well, back to that room again, until I can sneak out again, I am getting good at that, hee hee. I will talk to you later.
Bye, love you.
Donny
Contact the Feature Writers