[AdSense-A]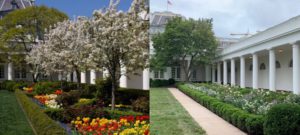 By Susan Dado (Special Contribution article to RSR thanks to our very own Feature Writer Maya J. Carter coordinating it.)
I've been thinking about the White House Rose Garden for the last two days, an observer from across the ditch trying to make some sense out of what has just happened to a small but important piece of land that holds so much meaning to many of my US friends.
I'm pleased that a path will now make the space wheelchair accessible. I do hope that it is constructed from stone and not concrete, as I read in one report.
I understand that the newly planted, white roses are named after JFK and that the First Lady believes "gardens are a symbol of growth and hope". But there is a most dreadful symbolism in removing the coloured roses planted by previous First Ladies and replacing them with all white flowers -and for that reason alone I can't believe she did it.
Fairy tales of my childhood also came to mind when I read that most of the colourful plants had been removed. Immediately, I thought of a witch casting a spell over a frozen land.
I'm horrified that ten crabapple trees planted by Katherine Wilson were removed. I think it is tree thuggery. If the trees were indeed casting too much shadow, I'm sure a skilled arborist could have solved the problem.
But my real question is why use lavender in the perennial borders? What is there about lavender that says the United States of America?
Melania Trump could have used so many different state floral emblems instead. She could have united as many states as possible in those little borders. Texas Bluebonnets, or your native Aquilegias In blue, lavender and white, Louisiana Irises, Penstemons, so many different floral symbols and Native American plants could have, with a little more thought and regard, been integrated in to the garden.
And what about magnolias, why not use your glorious magnolia trees? I know the space is not huge but to cut down historically significant crabapples and replace them with green topiary balls and lavender bushes- where is the admiration for the efforts of the women who expressed their hopes and dreams in this garden? Where is "the symbolism of unity, growth and hope" in that action? It's not a garden in the Palace of Versaille, for goodness sake.
I truly hope that the previous garden plan has been well documented, and more importantly, that the next Whitehouse residents feel they are privileged to be the elected caretakers of the space, with a stronger sense of respect for those who have gone before them.