[AdSense-A]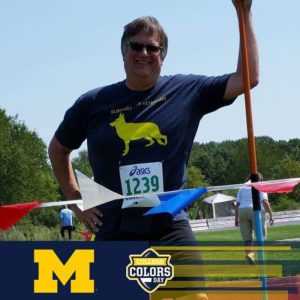 By Larry Daniels
A few years ago, I asked myself, "What is something you've always wanted to do?". We live our lives and let dreams slip away. Responsibility and circumstances beyond our control sometimes get in the way. In my view, we are only given one life to live. Hopefully, we get to make the most of it.
My father passed away when I was 14. It was too difficult for my mother to work full time and still be able to help me with after school extracurricular activities. I really loved playing football and baseball, but at the time it was best to give up my athletic endeavors in team sports. I turned to bowling and golf to scratch my itch to play sports.
Into adulthood, the dreams still lingered. The thought of competing in the Senior Olympics came into focus. The vehicle to do something I've always wanted to do and to possibly win a medal would be a dream come true!
I started to do research on what events to compete in. I wanted to throw a football or a baseball around, but the Michigan Senior Olympics did not have those events on the roster. A Google search in the year 2016 revealed the perfect events to suit my athletic strengths at the Iowa Senior games. I couldn't believe it! They had a football throw, a softball throw, and a field goal kicking event. After a reasonable discussion with my wife, we made the trip to West Des Moines, Iowa. Former Detroit Lion, Chuck Long, was the CEO of the Iowa Senior Games. Maybe I could meet him! "Oh, this is too good," I thought to myself.
My wife and I stayed at a local hotel nearby. I must report that the produce served at the breakfast bar was the best I had ever tasted. Our friends in Iowa obviously know a lot about farming! With a well-nourished belly in tow, we were off to a local high school stadium to compete in the Senior Games. The field had artificial turf. The temperature was in the '90s. My exhilaration completely blocked out the heat. Before the competition, the athletes socialized and mingled together. It was fantastic to meet new friends and acquaintances.
The softball throw was first. I halfway expected the stands to be semi-full. The Senior Olympics is not like that. It is more like an exhibition. Mostly just athletes and volunteers. No roaring crowds. I think it helped with my concentration. It takes the pressure off. We were allowed a few practice throws, and then it was time to let it rip. Three throws. My longest was just shy of 216 ft. Our official results were not known until 2 hours after the competition.
The football throw was second. My first throw was a masterpiece. It went way over the heads of the spotting volunteers. The judge behind me said, "Nice throw, now we have to back everybody up". That comment made me feel really good. My longest throw was 176 ft. 8 in.
The field goal kicking event was last. Chuck Long was on the list of competitors! I found out later that he was called away and couldn't compete that day. Rats! The competitors were given three kicks each in five-yard increments starting at the 15-yard line. I boomed my first kick, nearly sending it out of the stadium. I was feeling it.
It was at that moment that life puts you back into balance. I shanked my next three kicks. A little too cocky for my britches.
Two hours later, we went inside the high school gym to find out the official results. I had won gold medals for the football throw and the softball throw. I took home the silver medal for the field goal kicking event. A real-life dream come true.
I wanted to compete in the Senior Olympics again. This year, the Michigan Senior Olympics is offering the chance to compete in virtual track and field events! It just so happens; I have been running three miles almost every day this summer. 5k, baby!
Each competitor is asked to submit photos and results using an exercise phone app that are emailed in. The event can be completed at a location of our choosing. We have until September 30th of this year to get it done. We will receive a t-shirt and only one gold medal per person. I love the protection this offers the athletes during a pandemic.
The Senior Olympics is an excellent opportunity for people like me who never really had the chance to compete in sports when they were younger. If you would like more information for what is happening in your neck of the woods, check out https://nsga.com.
Contact the Feature Writers