[AdSense-A]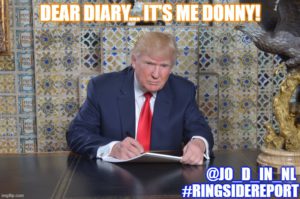 By Jo-Ann "Jo D NL" Duke
The diary scribblings of T4: Temper Tantrum Toddler Trump
Dear Diary,
It's me, again, can you believe that nasty nosy person? He asked me if I felt guilty for lying to the American people for the last 3 and a half years. I have never lied, I have just told them what I think they need to hear, even if I don't believe what I said. Why would that bother me? It never did before, even when I was running my businesses, and getting all the money from the people, so that I could still have all kinds of money.
That's what the banks are for, right? Anyway, I just ignored him, that rude person. He's just jealous because he's not special like me, he must wish that he is the president, and have everyone listening to him every day. He could never do the job I am doing. I will have to talk to the young blond woman, and make sure that he can't come back, and be mean to me anymore, cause I don't want to have to see him in the room again. I am the president, so they have to do what I want, that's how it works, they have to make me happy.
I can't get over that, he said such a mean and not true thing to me, it's not lying because I know everything, and everybody should listen to me, and do exactly what I say. It's not like anyone else could be right, and that I am wrong about anything I say, that's just not possible. They are all just jealous, that's what it is, well, wait until I win again, that will prove to everyone just how right I am, and that I need to stay, because I am the only one who can do this job the right way. K and V have been saying this for 2 years or so, and they are right. I am the only one who can do this job the way I have been, like I told you before, no one else could do it the same as me, whatever they did, it wouldn't be the same.
Well, back to the boring office and people, and let them go on while I pretend to pay attention to them, but you know the truth, I really don't, unless I hear them mention me, and then I listen.
Bye for now and love you.
Donny
Contact the Feature Writers