[AdSense-A]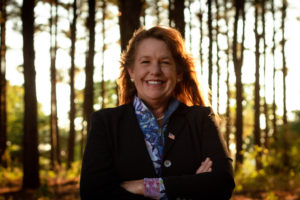 Wellston farmer-rancher and small business owner Zoe Midyett is the Democratic candidate running for Oklahoma's Third Congressional District. She stepped up in February of this year to face incumbent Frank Lucas, who has held the seat since 1994.
Midyett has growing support from Oklahomans across the Third District who agree that she is "Finally a voice for rural America."
"After 26 years in Washington, Congressman Lucas is a career politician out of touch with the people he is supposed to represent," Midyett announced on Twitter. "I'm running to represent all the people career politicians are leaving behind — like me, my family, friends, and neighbors."
Congressional District 3 covers nearly half the state, including 32 counties in a line stretching from the northeast corner to the southwest corner and out west through the panhandle of Oklahoma.
"Frank Lucas took no action for two years while the Trump administration engaged in a tariff and trade war that is destroying farmers and ranchers' income and our rural communities," Midyett said.
"Our public school students desperately need funding and faculty. Rural hospitals are shutting down. Oklahoma infrastructure is outdated and falling apart. Too many working families still can't get basic healthcare in the middle of a pandemic."
"The folks who inspired me to run just kept asking, 'What has Frank done to help?"
Midyett proposes comprehensive reform to level the international playing field in agri-business and fund critical improvements in infrastructure, educational success, healthcare services and broadband access, especially in rural areas.
Growing up in Tucson, Zoe was active in 4-H and FFA, and received honors for her work. She understands the value of youth groups, and finding ways to support them has been a lifelong endeavor. The 4-H motto "To Make the Best Better" describes her approach to life. In 1994, Zoe's job with AOL brought her to Oklahoma during the "tech boom." She came to Oklahoma as we were still deeply wounded by the Murrah Building bombing. "What I saw in the collective response of Oklahomans confirmed to me real quick that Oklahoma would be my forever home," Zoe said.
Zoe and her husband, Scott and son Alex, 15, live 10 miles outside the City of Wellston. She also lives with and cares for multiple species of livestock, from a 35-year-old retired mare to newborn poults.
Each morning, Zoe gets up, feeds the animals, drops her son off at school and heads to Red Earth Feed and Tack, the full-service feed, clothing and gift store she has owned and operated since 2006 on I-44 in Oklahoma City right up the street from The National Cowboy Hall of Fame.
Often, it's a 12-hour day, but she still finds time, as a proud Medical Reserve Corp leader, to raise funds, gather donations and deliver critical veterinary and medical supplies to help farmers and ranchers save their livestock injured in tornado and other disasters.
On September 1, Zoe is prepared to take on Frank Lucas face-to-face for a debate on what challenges we are facing in Oklahoma. She issued the challenge, but has not received a response. "I want to talk to him about failed leadership. Specifically, I want to ask him why he won't respond to over 100 landowners in his district that are suffering from a mess a pipeline running through their land has caused." As of August 24, the congressman has not responded to Zoe's challenge.
"I cannot stand idly by as our leaders continue to let our communities' decay and infrastructure crumble," Midyett said. "I feel a strong duty to step up for rural Oklahoma. Together, we must fight for better representation in Oklahoma's Third District, and that starts by electing leaders who care on November 3rd."
For more information, visit Zoe Midyett at www.midyett2020.com, @Midyett2020 on Facebook, or @ZoeCongress2020 on Twitter.