[AdSense-A]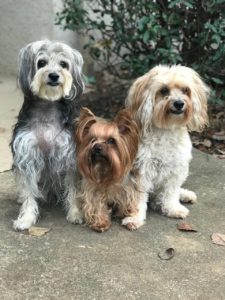 From left to right – Tino, Giovanni and Val
By Maya J. Carter
Well, it is about time I introduce you to my other two pups. In my first article for Ringside Report, I introduced you to my Yorkie/Rottie Giovanni who thinks he is 50 times his size – all Yorkies do. Giovanni has two older brothers, Val and Tino, who are actual brothers as they are littermates. Val and Tino are extremely bonded; brothers for life, so to speak. Even saying their names together gives you single name.
As a side note, I needed to write this article because with the current political environment and with each news story that we read daily, I could feel this tinge in my brain that seemed to indicate the presence of elevated blood pressure, so I sorely needed a break. So, yes, I am discussing a more calming topic: pets! I will be back to politics after this, just after the relaxation exercises kick in. Keeping it Zen!
I have loved my fur balls ever since I initially laid eyes upon them – they were 3 week-old puppies. They were tiny enough to fit into the palm of my hand. I bottle fed them as they didn't even have teeth yet, wiped their furry bums, and played music for them to help them to sleep. I am nutty about them that way.
Yet, the thing about getting pups – or cats, or hamsters, or gerbils, or bunnies, or any pet – is one must be prepared for their needs ahead of time. Luckily, I was informed by a helpful PetSmart clerk that I would need a few items before bringing them home. In addition to bottles and the tiny scrubbers to clean them, I would need milk replacer, soft puppy food, an enclosure for them, soft toys, treats, warm and snuggly blankets, teething rings (for when the needle-like puppy teeth started to erupt), clippers, brushes, leashes, collars – the list seemed endless. But I managed to purchase it all and lug it home, ready for the enjoyable experience of pet ownership. Honestly, I wish I had invested more in cardboard boxes as they seemed to preferred chewing on those over their toys.
All was going well. I even purchased cute t-shirts and sweaters to add to their personas. Of course, within days of having my little guys, they had a veterinarian who had grown to love them as much as I do. Their vet advised that I purchase a PetSmart health plan through their office to cover their physical examinations and shots, and I did so eagerly. All was going well.
Until…when Val was about 5 months old. One morning, I prepared Val and Tino for a routine walk, placing them in their harnesses and leashing them. Tino was rearing to go, but Val was hiding beneath the coffee table for some strange reason. Usually he beat Tino out of the door. Upon closer scrutiny, after repeatedly calling Val's name and trying to coax him out from his hiding spot, I leaned down to see what in the world he was doing under there. Peering back at me were his large pleading puppy dog eyes, and a puppy writhing back and forth uncontrollably. I couldn't figure out what he was doing at first, but once I pulled him into the open, I could fully understand that he was having some type of seizure. My heart sank, as I watched helplessly while he looked at me with a puzzled and sorrowful look. Long story short, he had 4 more episodes before he ended up being hospitalized by a veterinary neurologist, received an MRI, lumbar puncture, and extensive blood panel, and finally started on anti-seizure medication. Thank goodness the medication worked. I won't tell you about the bill.
We made it through that ordeal and Val carried on with his jovial self. He has been diagnosed with a benign heart murmur as well which has thankfully remained stable. We also added the rambunctious Giovanni to the pack in the meanwhile. All was going well again. Until…4 years later, Tino began drinking water like he could not get enough, eating like he was the Rottweiler Giovanni claims to be, and urinating with the full force of an open fire hydrant. Tino had a number of accidents in the house which was highly unusual for him. At times, he would have an accident while looking directly at me as if he wanted to cry of embarrassment. They really do have feelings, and I felt helpless again. I had an idea of what it was, but did not want to believe it was happening. I took him to the vet, and the vet confirmed my fears – Tino had been diagnosed with diabetes. Diabetes in dogs is more like Type 1 diabetes mellitus in humans, and is treated similarly. He requires twice daily insulin, a glucometer and testing supplies, syringes, and prescription diet. Not to mention the weekly day-long visits for a few months to undergo blood glucose curves, determining the proper dosage of insulin required. I won't tell you about that bill either.
Finally, Tino was stabilized. He was sparing my floors and rugs of "watering", and back to his chipper self. All was going well yet again. Until…I'm just going to summarize here because this portion of the story really stresses me out. In short, Tino went blind in both eyes due to his diabetes and has had cataract surgery on both. He has had ACL surgery on his left hind leg. Then had ACL surgery on his right hind leg, then surgery to remove his surgical suture to correct the ACL surgery, then additional surgery to correct that surgery. My little man has the moniker "The Bionic Dog" because of all of his bionic replacement parts. Yes, Tino has been rebuilt better, stronger, faster. Whenever he tries to run now, the Six-Million Dollar man mechanical sound effect echoes in my mind. Thinking about those bills is part of what stresses me out. And most veterinarians do not offer payment plans.
Giovanni has largely been spared of severe medical issues. He has bilateral subluxation of his patellas and tracheal collapse (which makes him snore at night and sound like a little piglet when he walks, gets anxious or overheated), but the little dude is holding up well.
So, why do I bring all of this up? When I first went through the list of the needs and must-haves for Val and Tino when they were adorable little furballs, adding to that list the purchase of pet insurance was a critical omission. At every veterinary appointment and emergency health visit, I wish someone had suggested (or I had researched beforehand) the need to purchase pet insurance. It is too late for me now as each of the guys have pre-existing conditions, but it is not too late for me to share this with anyone considering owning a pet. We forget that essentially any health condition that humans can be diagnosed with, so too can dogs and cats – cardiac, neurologic, gastroenteric, orthopedic, endocrine, renal, oncologic, just about anything. Pet insurance is relatively inexpensive, and can cover items such as wellness visits, x-rays, tests, hospitalizations and surgeries, and medications in many cases. Not all pet insurances offer the same plans, so please compare plans judiciously.
I have seen the heartbreak of pet parents having to relinquish their pets to shelters, or worse, having to euthanize their pets because of the inability to afford care, devastating to both pet parents and veterinarians like. The average monthly premium for pet health insurance is around $30 to $50, the cost of a bag of high quality pet food. And believe me (not like someone else we know who says this to a fault), it really is worth the investment. The total cost of Tino's surgeries alone rivals the cost of college tuition for a few semesters – and oddly enough, no matter how much I try to persuade Tino to do so, he refuses to open a book except to lick the pages. Many pet insurance plans cover up to 90% of veterinary bills, and provide coverage within 72 hours of owning a pet. Also, research the breed or mix of pet you will own, as some are predisposed to certain types of illnesses and will help you to decide what type of coverage you might need.
Val and Tino are both doing well health wise now for 9 year old senior doggos. I hope that when you get a lovable bundle of fur to add to your family, their experiences help you with considering what is needed to keep your little lovable bundles of fur healthy, too.
Now back to the news. ARRRGH
Contact the Feature Writers