[AdSense-A]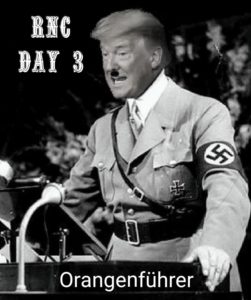 Photo by HRAJ
By James "Giacomo" Gatto
Fear mongering was at the top of the agenda for Day 3 of the RNC. Beware the Liberals, for they will plunge us into the depths of hell. Mike Pence fanning the flames: "Joe Biden would be nothing more than a Trojan Horse for the radical left. President Trump has set our nation on a path of freedom and opportunity; Joe Biden would set America on a path of socialism and decline." Only the Grand High Exalted Mystic Ruler can save us! He's our only chance. He's done such a great job, so far. So, why not four more years? And, America, we believe you have the wrong impression of this great man. Yes, he's a bit rough around the edges, but he cares. He loves his family and his friends, and most of all, he loves America. And that means you. He's our Savior.
We are witnessing the transformation of the Republican Party right before our eyes. The RNC has been the showcase for the new Trump party–The Bootlicking Party. There were references to Abraham Lincoln, George Washington, James Madison, and the Declaration of Independence. Next level hubris. To try to align themselves with these principled men and the principles of the Declaration of Independence is simply laughable. But, as I laughed, so many, with tearful eyes and a lumped throats, applauded. There are, in fact, two Americas.
But there's still some work to be done. The GOP is well aware of the Donald's image, and they're trying to change it. In three hours, they did their best to undo the image Trump has created for himself by painting a picture of a different man than the one we have seen for ourselves for three and a half years. Modern day court painters, whose role isn't realism, but idealism. Such as Hal Holbein the Younger's (1497-1543) portrait of King Henry VIII, in which the king was depicted as a powerful and imposing figure full of vitality. When, in fact, none of that was true. Five hundred years later, Trump's merry band of court painters were at the easel that sits at the foot of the throne of their "Highness", and all through the night creating their fantastical Kingdom-one brush stroke at a time.
Two Americas…
Contact the Feature Writers