[AdSense-A]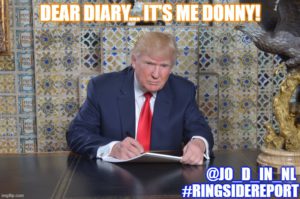 By Jo-Ann "Jo D NL" Duke
The diary scribblings of T4: Temper Tantrum Toddler Trump
Dear Diary,
Hey, it's me. I am so excited, tonight is the 1st night of our big party, for the RNC, the posters are pretty cool, with the funky elephant. I can't wait, Kimmy and DJ are going to be talking about me, and I know she will be good, she really likes me, and I guess he will be too; but he will never be as good as me, that's just not ever going to happen. At least having them there, and saying such good things, it will show how much those kids like me, and that we are a happy family. Yeah right, as if.
The only one that really is good is my Van-Van, she's such a good girl; and she loves her daddy. She's my baby girl, DD, don't tell anyone, but she's my favorite, cause the rest of them don't know that. She's just like me, only a girl, and she makes me so proud, even if I don't like her husband, he's creepy, like a live robot. I will deal with him though, to keep my little girl happy.
Well, back to me, I am going to be the president again, because why would anyone vote for Sleepy Joe, when they could have me, it's not even a contest, right? Imagine wanting someone who would do things not the way I did them, crazy, yeah. That idea is so weird, because they can have me doing things just the way I have since the last election. It's not like I have to worry about losing, because everyone loves me, and wants me to stay here, they keep saying 4 more years; like I said, everyone wants me to be the big boss, well, at least the people that matter.
Talk later, love you.
Donny
Contact the Feature Writers