[AdSense-A]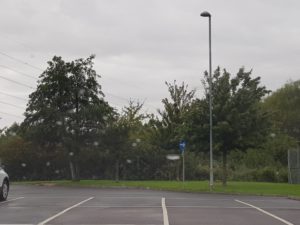 By Radical Rhymes
How strange life is, and how difficult it can be to navigate. As I write this, I'm sitting in a leisure centre car park waiting for my youngest son to finish his game. Ideally, I would be in the ground talking to the other parents and enjoying the match, but I simply can't.
You see the anxiety has kicked in and it's not playing, it means business. The mere thought of climbing out into the light drizzle under iron grey skies is petrifying. But approaching the other parents is a monumental prospect, dizzying, in fact.
And so, I'm staring at the hedgerow and kicking myself almost as hard as the dreaded anxiety is. Maybe I should give him/her a name? Nah that might encourage a closer relationship. That's the last thing I need…
This isn't a new thing for me though, far from it, anxiety has been my constant companion since I was a child. But it is getting worse. So much worse.
I suppose the first real warning sign was the evening I was due to teach a professional doctorate class on citizenship. For some time before that making myself walk onto a lecture hall of anywhere between 60 to 100 students had been growing more difficult. That day it became crippling.
Fortunately, a friend and colleague found me outside my office looking – so she claimed- pale and distracted. She kindly took me to the park outside our grand old building, walked me around it several times and reassured me how great I was. Slowly, the panic receded. I went to that class and nailed it.
Maybe it was just a one-off I counselled myself, and tried to carry on. In my heart I knew it wasn't. It was the beginning of the end for me. Having been a lecturer for a while, the mask I had to wear to conceal my fear was slipping. In the end there was no way to put it back on.
Friends were baffled. 'But the student's love you! You're great at this!' And not to blow my own trumpet, but they were right on both counts. I was a natural. A performer who genuinely cared about the students. It wasn't enough, nothing was.
Sad? A terrible waste? In some ways, but regardless of all that my race was well and truly run.
I love people, just as my father did. I enjoy talking to them, learning about them, hearing their stories. One of my true loves is making them laugh, I believe that was part of what made my lectures so engaging. One PhD student suggested I went into stand up comedy. Um, no.
So, I left academia to follow my true passions of art and poetry. They make me comfortable and keep me safe. Most of the time anyway.
Sitting here in a leisure centre carpark hearing the rain, watching the trees swaying gently in the breeze, I am still berating myself.
BUT… what's the point? I am what I am. I am who I am, and without the weirdness and the foibles could I be what I want to be? I believe not.
The anxiety is harsh, it costs me in countless ways, but it's part of me. It drives me at times, it gives me unusual insights, it encourages me to create. And while I'll never love it, in my heart I am beginning to accept it.
Andrew. That's what I'll call it!
Andrew…
Radical Rhymes is a professional artist working with a range of media – predominantly animal/human portraits and landscapes – including, most recently, hand painted furniture. You can see his work on Instagram Radicalrhymes1969 or on Twitter @RhymesRadical.
For commissions, please contact him on Twitter via Direct Message or by email at: radicalrhymes@outlook.com His work is also available to buy on Etsy
Contact the Feature Writers