[AdSense-A]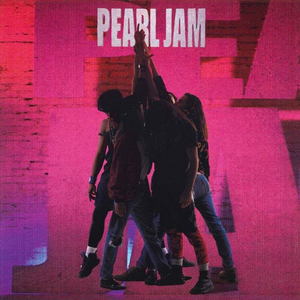 By Marc "Kid Huevos" Livitz
Although the debut album from Seattle quintet Pearl Jam was released 29 years ago this past Thursday, it took a while for "Ten" to pick up popular steam in the United States. It may be hard to believe now, as a few of the tracks from the album, such as "Alive", "Even Flow" and "Jeremy" still receive considerable airplay today. Rock music was in an interesting pickle back in the early 1990's. The "L.A. Glam Scene" had essentially run its course and to be fair, it indeed gave us a few gems in terms of bands and albums. Motley Crue is probably the biggest example with other groups such as Poison and others in tow.
As hard as it may be to picture, Axl Rose's hair was teased to the ceiling before his band, Guns N' Roses became one of the biggest on the planet. I'd gotten a bit of a taste of what would become the "Seattle Grunge Movement" in early 1991 when I heard "Man in the Box" by Alice in Chains blare out from my 1986 Pontiac 6000 LE's speakers. Their debut album, "Facelift" actually turned 30 earlier this month and I still hold them as the best band, by leaps and bounds of the period.
Grunge music was embraced by some teens such as myself, but I didn't necessarily view it as a hard-left departure from rock music, but rather as something just a bit different. Critics bashed it without mercy, while some pledged blind allegiance to it. Its detractors pointed to the somber feel of much of the music and asked why we needed to be reminded that life sucked for some us. After all, music was supposed to provide the escape and getaway from life's various forms of misery. I was quick to remind people that Seattle gave us Heart and Jimi Hendrix, so it couldn't be all that bad. Regardless, I dug the groove and feel of "Alive" from the first time I heard it, or in truth saw it on MTV. What memories many us may have of that particular network, especially when it actually played music.
Pearl Jam arose from the ashes of another Seattle-based band, Mother Love Bone in 1990 shortly after its lead singer, Andrew Wood succumbed to an addiction to heroin, much like Layne Staley of Alice in Chains did the following decade. Bassist Jeff Ament and guitarist Stone Gossard left the remnants of Mother Love Bone and joined up with vocalist Eddie Vedder, drummer Dave Krusen and guitarist Mike McCready to form Pearl Jam. After completing the recording of "Ten" in just one month during the Spring of 1991, the album was officially released on August 27 of that year. As previously stated, it took a while, at least it did for me as a 17-year-old kid who always looked to find new music with which to pop into the knockoff Walkman I owned and jam out while I banged away on my drum kit. Sometime before Christmas Break in 1991, a friend of mine gave me his copy of "Ten". I took it home, dubbed it on my twin-deck stereo and then returned it. Whichever weekend it happened to be, I clearly remember going back to school the following Monday and boasting how much I'd nailed "Even Flow" and "Why Go" on the drums after just a few listens.
Although I was and still am to this day a maniacal Metalhead, "Ten" became the soundtrack for much of my junior year of high school. CD players for my antiquated stereo rack system were priced too high at the time, so when I went to bed each weeknight, I popped in side two of my cassette and relaxed while "Oceans" began the more mellow side of the album. Following it was "Porch", "Garden", "Deep" and lastly, "Release". I'd usually have dozed off by the last track, but if not, then I got to hear an album that seemed to get better and better with each rotation. Music videos for "Even Flow" and "Jeremy" catapulted the band into the spotlight in 1992 and for a few different reasons, I only saw them in concert once. On my eighteenth birthday, I found myself happily struggling to breathe as I was crammed against the barricade in front of the stage inside the Houston Astrodome. A triple bill of Faith No More, Metallica and Guns N' Roses helped me forget that I left school after lunch. The following day, I joined a few friends in venturing out to Fort Bend County Fairgrounds for the Lollapalooza Festival and for all intents and purposes, I was there to see Pearl Jam, even though Ministry, Soundgarden and the Red Hot Chili Peppers were among the acts that day. When they took the stage, I waited for as long as I could until I could no longer deny the temptation of crowd surfing. Before long, the security detail at the front barricade caught me before I fell to the ground and I spent the rest of the day separated from the two friends with whom I'd gone to the show.
Luckily, I bumped into a few others and hung out with them before I met my ride at the end of the night. A few years later, Pearl Jam's sophomore album, "Vs." dropped and by that time, they were one of the most popular groups in America. I thought it wasn't without its highlights, but ended up selling it sometime down the road and the reason that I didn't choose to buy a ticket for the corresponding tour that year was because one was too difficult to get. At the time, the band's decision to bypass ticket monopoly Ticketmaster was lauded to great effect, as they felt it was unfair to ask for high service charges alongside the purchase of a ticket. Instead, they chose to set up an 800-number service for fans to call in and order their tickets. The internet was still a kid at this time and we weren't yet using it to make many purchases. What resulted was a gridlock of misery. The phone lines crashed and the near impossibility to get through to actually speak to a ticketing agent meant that tickets would be in high demand with scarce supply. Scalpers, or as they're referred to today, "The Secondary Market" cleaned up handily, so that would be that.
I haven't bought a Pearl Jam album since then. What sets "Ten" apart for many people is its originality, groove and simplicity. It's still in my rotation on long morning jogs through the neighborhood and it's still one of my personal favorites, although I strongly feel that Alice in Chains was the best group of the era. Much love and respect for Soundgarden, however I never understood the fascination of others with Nirvana. Grunge music eventually caved in the same way that the "Hair Metal" scene had in the previous years. There were true standouts and icons within the genre, yet it was copied and pasted to no end and imitation bands were seemingly everywhere. The music business was quick to trash rock music and jump on the wagon of wherever the trends were heading so that they could profit as much as possible. I'll still take it over what is popular now. So many don't even sing or play instruments anymore and the shelf life for some of pop music's acts is over after a few coughs. Bands often lip sync, play to pre-recorded tracks and rely on software to save their act from being laughed off of the stage. At times, I still miss the old days. How about you?
Contact the Feature Writers