[AdSense-A]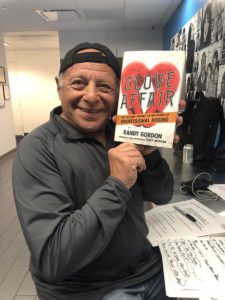 By Randy "The Commish" Gordon
I love interacting with you terrific, knowledgeable fans. A few months ago, I began putting my personal e-mail out there for all of you to have, asking for your questions, thoughts, rants and all else boxing related, with the intent of putting your questions out here for everybody. However, I never thought I'd get so much mail. So, I will put a number of your letters into this week's column. The rest of them, I will answer personally. It will take me several hours to do tomorrow, but doing so is my pleasure. So, with no further delay, here goes:
Hi Commish. Of the packed Autumn schedule, what fight are you most looking forward to?
John Wilkerton, Bradenton, FL
The fight I am super pumped for is the Vasily Lomachenko v Teofimo Lopez fight. This fight, for lightweight supremacy, is a matchup of two of the finest fighters in the world. I haven't looked forward to a lightweight championship bout since I saw a young, undefeated Roberto Duran face the legendary Ken Buchanan.
A friend said he heard that former 140-pound titlist Ruslan Provodnikov, will soon be making a comeback. Can you tell me anything more about this? I was ringside for two of Provodnikov's fight, and loved his fighting spirit.
Paul Heller, Johnson City, TN
Your friend heard wrong. In a recent interview, the popular Provodnikov, whose last fight was a 12-round unanimous decision loss to John Molina, JR. in 2016, said, in an interview, he loves the game and misses the competition, but realized, after the loss to Molina, that it was over. Last April, he turned 36. His overall record was 25-5 (18).
I know that a lot of very fine Eastern Bloc fighters have migrated to the U.S. So many of them, led by Vasily Lomachenko, are among the best in the sport. I have been hearing a lot about Vladimir Shishkin. Is he somebody to watch out for?
Arthur Dowing, Ft. Lauderdale, FL
Shishkin, from Russia, moved to Detroit, MI, two years ago. He fights for Dmitri Salita Promotions. He stands 6'1" and fights as a Super Middleweight. He recently went to 11-0 with seven knockouts, stopping Oscar Riojas in the 9th round. He is a smooth, right-handed boxer with knockout power in both his right cross and his left hook. Salita hopes to keep the 29-year-old Shishkin busy in 2021 before challenging the upper echelon of the 168-pound division.
Who do you think will win the fight later in September between Erikson Lubin and Terrell Gausha?
Tim Champion, Houston, TX
This should be an interesting fight, and such an important one for both men. Gausha is 32 years of age, and has an overall record of 21-1-1. However, he is just 1-1-1 in his last three fights. Lubin is just 24, and has a record of 22-1 (16). The only loss ob his record was a TKO 1 to Jermell Charlo in 2017. For each man, this is a career-defining and perhaps even a career-deciding fight. I go with the more younger, more-powerful and aggressive Lubin to win this one.
Mr. Gordon, I loved listening to heavyweight Jared Anderson on your SiriusXM show a few weeks ago. Do you have any idea when he is fighting again?
Rick Stackwood, Little Falls, MT
Jared Anderson, the 6'4", 240-pound, 22-year-old heavyweight prospect is scheduled to take his 5-0 (5) record into "The Bubble" in Las Vegas on Saturday, Sept. 5. His opponent is scheduled to be tough trialhorse Rodney Hernandez, who brings a 13-9-2 record into the ring. The fight will be seen on ESPN.
Will the Teofimo Lopez Vs Vasily Lomachenko fight be on PPV? A friend told me I must've heard wrong about this fight being show on free TV.
Andrew Infante, Hoboken, NJ
You did not hear it wrong. This huge fight, probably the best offering in 2020, is not going to be on PPV. It's free, as long as you have cable TV which includes ESPN in the package. The date for this unified lightweight championship bout is October 17.
And here's another question about Lomachenko Vs Lopez:
I haven't heard much about the training camps of either Vasily Lomachenko or Teofimo Lopez. Are both guys already in training for their upcoming fight on October 17?
Bruce Spooner, Reno, NV
Both are in training and have been for several weeks. Lomachenko has been training in both California and in Las Vegas, while Lopez has set up camp in Southern New Jersey. Both are looking very strong, very sharp and very powerful. We think this fight is going to be everything fans think it will be—and more!
Were you impressed with big Daniel Dubois last week? Can you see him beating guys like Tyson Fury and Anthony Joshua?
Bobby Sharpe, London, England
Dubois was impressive, but he didn't have a major threat or contender in front of him. Let's not rush him into fights against Fury or Joshua yet. Let's see how he does this Fall against Joe Joyce. Then we'll know where Dubois is at.
I frequently watch your "RANDY'S RINGSIDE" shows on Facebook Live. They really are fun and informative. I wrote to say "Thank You" for recommending Todd Snyder's book called "Bundini." It was a very interesting book about a very interesting man. I recommend to all boxing fans.
Sandy Warren, Cincinnati, OH
I will pass your kind words along to the author, Todd Snyder. He put a lot of time and effort into the book—and it shows. I know other fans will feel the same way we feel after they read Snyder's terrific book.
Do you think it was a smart move by Alexander Povetkin to give Dillian Whyte a rematch? Don't you think he should have waited for his mandatory shot at the winner of the Anthony Joshua-Deontay Wilder fight?
Ken Joseph, Houston, TX
In a perfect world, yes, Povetkin should have waited. But, this is not a perfect world, if you haven't noticed. Povetkin went and signed a rematch clause against Whyte. It is a rematch which Whyte desperately wants. Even if Whyte were to say, "Okay Mr. Povetkin, I will forego the rematch if you promise me first shot at your title should you win it when you face the winner of Fury-Wilder III." Do you see all the problems with that? For one, Fury-Wilder III may not happen on December 19 because of the COVID-19 issues with a crowd being allowed to attend. So, the fight could be pushed into 2021. Then, a Povetkin vs the Tyson-Wilder winner may not happen until next Summer. When it does, Povetkin may not win. He'd go into the fight a contender and come out a contender. Whyte would still be out of his title shot. So, Whyte wants a rematch. So does Povetkin. Povetkin-Whyte II will garner a lot more interest and eyeballs. It will also mean more money for both—especially Povetkin. Not getting any younger, Povetkin figures another fight against Whyte will be worth it.
Do you give Danny Garcia any shot to beat Errol Spence, JR. when they meet later in The Fall?
Rich Kamins, Denver, CO
Don't sleep on Garcia. He is a live dog. A very live dog! He's a live dog because of his talent and because we just don't know what Spence will be bringing into the ring after his auto accident in October 2019.
I have heard WBC Featherweight Champion Gary Russell Jr. calling for a fight against unbeaten welterweight champ Terence Crawford. Is Russell serious?
Roger Kilroy, Washington, D.C.—
He certainly is, though he knows it will never happen. Poor Gary, a gifted champion who has lost only to Vasily Lomachenko, fights only once per year and is known by nobody outside his team. He will do anything for publicity. So, he has taken to calling out Crawford. Don't give it any more thought.
Keep the e-mails coming. Send your boxing thoughts and questions to:
See ya' next week.
Randy "The Commish" Gordon is the Author of the hit book, "Glove Affair". Order your copy by clicking HERE.